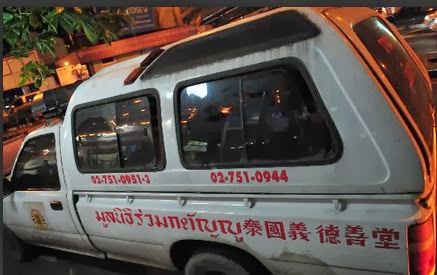 A Bangkok ambulance man high on crystal methamphetamine sexually assaulted an attractive patient while she was unconscious and left her to drown in a canal.
He picked up the 28-year-old office worker who collapsed while having dinner at a city restaurant, but instead of taking her to a hospital, he parked up sexually assaulted her, and when she resisted, he claims he drove off.
The patient was later found drowned in a canal. The driver named as Thawatchai sae-Sim denies killing her – but admits taking her to a spot 12 miles further than the nearest hospital and assaulting her before dumping her.
Police have charged him with unauthorized drug use and attempted rape. A post mortem showed the woman had been sexually assaulted, said police.
They have not come up with an explanation as to how the woman fell into a canal.
The city's ambulance service is not a public one, but run by Chinese Foundations – they were often referred to as the 'Bodysnatchers' as they compete with each other – and in the not too distance part used to get involved in violent confrontations.
Thawatchai sae-Sim worked for the Ruamkatanyu Foundation.
The Foundation's Deputy Public Relations Officer Anyawut Phothi-amphai: "It was supposed to be a routine pickup to the hospital, but it is beyond expectation that he would have brought disgrace upon the foundation and charity workers in general."
Ambulance picture – Eugenegoesthailand.com