DREAM HOMES CONFISCATED AND OFFERED FOR RENT OR SALE. THANKS GUYS!
Foreigners who built expensive holiday and retirement homes on the Thai island of Koh Samui on 'extendable leases' leases have been kicked out and their property and their possessions seized.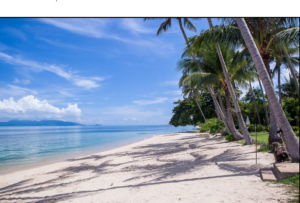 The homeowners who had homes constructed by a German developer who obtained the leased plots in a coconut plantation from a local landowner Sruet Shuenban are angry – but the 'Get out!' deal has been rubber stamped by the island court.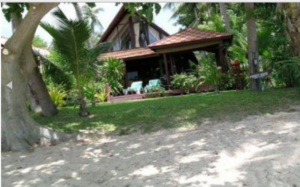 The foreigners, mainly European, had had houses built in estates known as Coconut Village and Coconut Grove by the Coconut Houses and Land Company of Norbert Verweyen – a notorious property developer whose harassment of house owners on the Santi Thani estate in Samui has been documented here and here. and where he has been involved in over 100 legal cases.
And with their own cash they tailored the estates even building a communal swimming pool although in one estate they all had their own.
Not surprisingly there is a lot of anger and bitterness – not least because Verweyen and Michael Grover, a British director in the companies controlling the estate, had told the home owners that their rights would be protected.
They appeared to do the opposite. The Thai landlord Sruet Shuenban took a case through her nominee Mrs. Suthatip (nicknamed Kheow) .
Verweyen told the court he did not want to renew the lease on Coconut Village or Coconut Grove – and in one stroke all 'owners' there lost their properties. Verweyen also agreed there could be no appeal to that decision.
The Thai landlord had demanded an astronomical increase in the land rents plus 50 per cent of all income from rental. Many owners had built the properties as holiday homes only. And when they were not there they rented the properties out.
The names of the villages have changed.  And guess who is controlling the sales and rentals of the smart properties the previous owners have lost?
They now come under 'Monsoon Villas' a sub-division of Grover's 'Lom Talay Company'.

In 2009, seemingly in preparation for Doomsday Verweyen, transferred the properties to Lom Talay and the new agreement did not appear to contain the same commitment to extend the lease.
But owners insist both Verweyen and Grover told them that everything was in hand and not to worry. What they were not told was that what was in hand was a plan to have them evicted unless they agreed to brutal new terms.
A representative of the home owners said:
"When the rental agreement between Coconuts Village and Grove expired Mike who was at that time managing the Village told the owners not to worry as he was negotiating the extension with Thai landlord.

"But in fact the owners received a letter from her stating that as the owner of the land she was proposing a 2 years renewal at extravagant financial conditions or the owners had to move out all their belonging within 7 days otherwise she will take them for herself. Most of the owners were living outside of Thaïland and were unable to come to remove the content of their house.

"The landlord took all their belonging and sold them. In order to avoid to have to pay the damages to the owners for their house at market value as provided by thaï law ( Civil Code 1416 )
"The landowner started civil proceedings against Coconuts Village and Grove (Verweyen and Grover) . Before the Court Coconuts Village and Grove confirmed that all the construction on the land were from the beginning of the lease agreement the sole property of landowner

"Trusting Norbert and Mike those owners have lost all their investments a( house and its content ) and cannot act against the landowner due to the judgment which was based on false declarations of Coconuts Village and Grove."
Owners complained to Thailand's Department of Special Investigations alleging fraud.
Had they been told they were merely building houses for the Thai landowner they would not have done so in the first place.
The DSI passed the enquiry over to the tax office as they noted taxes had not been paid. But they could not deal with the matter as fraud, they said.
The owners' houses are now being rented out to holiday makers at up to US$300 a night – with all winning except the owners themselves.
COMMENT: This is rather par for the Samui course. Foreigners cannot buy property in Thailand. But they can lease for 30 years and many are guaranteed and extention of lease for a further 30. I have yet to see any of these deals going through successfully – but that's maybe because there agreements are only just kicking in now. The owners trusted the developers on an island where truth is not a by word. Some may have the consolation that for their initial outlay and low ground rent they have enjoyed 20 plus years and have been able to get cash back by sub-renting. Others not so. But quite clearly there is dishonesty afoot lots of it, so much so that Norbert appears to have been established for a long time as part of the island mafia. 'Owners' could take into account the incidents in which he fled from a drugs arrest in Pattaya, and the murder of his wife and shooting of his sales manager (see the link below – A Serious and Imminent Danger ) or the fact that despite the 100 court cases (many against him) he remains unscathed.
Owners can only hope…what goes around…Anyway a Bangkok boiler room guy has had heavy investments in property in Koh Samui..and on that others can but live in hope.