ANGRY CREDITORS CHASE BRITISH CHAMBER OF COMMERCE FRAUDSTER IN THAILAND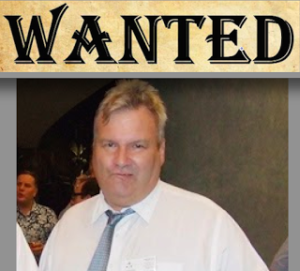 A reward of US$5000 has been put out now for the whereabouts of Greg Pitt, a former stalwart of the British Chamber of Commerce in Thailand.
According to those hunting him down he has been sentenced to 18 years in jail by the provincial court in Trat Province – but presumably because he has money and this was private prosecution, he has not yet seen any prison bars.
Pitt was the managing director of Bangkok law firm McKenzie-Smith.
He was also promoting Ponzis. Two of his projects were the Royal Siam Trust and White Sands Beach – a smoke and mirrors resort project in Trat Province.
Here is the blurb below from the FindGregPitt Facebook page, which is where I got his description from – but you can go there yourself at this link or go to the FindGregPitt website.
Personally I thought being dodgy was a prerequisite for joining a Thai version of the 'Chamber, Rotary, Lions, Masons, Optimists' etc. However now as Pitt appears to be called Somphon and Thai, perhaps he is quite safe.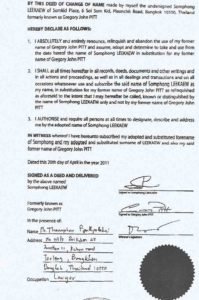 But what is is with foreign bosses of law firms in Thailand. Take the ones exposed on this site, Drew Noyes (One Stop Legal Services, Pattaya) – on the run after being jailed for extortion, Brian Go
udie, aka Goldie, from Falkirk, boss of Alba Laws, on the run having been jailed for four years for theft and embezzlement, British Law (Pattaya) owner struck off as a solicitor in the UK.
There is a reward out for Goudie of course of 100,000 baht but it may take cash to get Thai police to arrest a crook.
Greg Pitt as managing director of Mackenzie-Smith publicly condemned the Thai courts for letting a foreigner get bail on a murder charge some years ago.
Cash must have been involved he said.
HE HAS STOLEN FROM INVESTORS IN JAPAN AND NORTH AMERICA.$5,000

REWARD LEADING TO HIS CAPTURE IN THAILAND or ELSEWHERE.

We will work with our legal counsel and network that will liaise with the local Thai police for the arrest warrants to be served.
Bizarrely, this conman now has a new Thai name (Somphong Leekaew) and possibly other new identities. He may have help now from 'friends' to elude capture that once worked for him or borrowed some of the stolen funds he controlled over the last 18 years.
He has stolen millions from investors from 1998-2014.He is wanted by the Thai courts on multiple arrest warrants for fraud, embezzlement and multiple skipped court appearances.
Help us find him before he steals again or hides in plain sight in Thailand or ?

HOW TO RECOGNIZE HIM?
FACE/HAIR
Usually red and bloated with a short neck and broad shoulders.Hair now WHITE but past thick brown parted down the middle.Teeth are quite deteriorated and small.


He is possibly wearing a white beard and hat outside now.Date of Birth: 10-5-1954 (61)
VOICE
He has a big laugh and strong Welsh accent (quite difficult to understand while he's consuming alcohol).He is known only to speak English and very little if any Thai.
He is very heavy set and average height: 178-180cm or 5'10-5'11 and around 120-130kgs or 270-290lbs (or more).

He has health issues. Face becomes quite red with heavy alcohol consumption and he takes medication for his heart and high blood pressure. Last known to use an asthma inhaler in 2012-13.
BEHAVIOR/OTHER HINTS
His demeanor has become quite erratic over the last few years (reported) since several lawsuits and criminal charges have been lodged against him combined with his confidence schemes fully exposed.


He often drinks and eats at English or Irish pubs well air-conditioned, beach or city.
He wears mostly short or long pants (never jeans), dress or collared shirts and probably has not donned a business suit in five years since retiring from being a fake lawyer and conman (Mackenzie Smith Law, Bangkok and Pattaya)
He likes red meat and English, Welsh or Irish cuisine.
He is not known to smoke.
Enjoys watching rugby, football and cricket at pubs.He has terminated his mobile number in 2015 after 10-15 plus years.
Speaks about law as if he went to law school.Has a very bad attitude towards Americans and known to be quite racist.
Drove a White BMW 5 Series in Thailand. Not known to drive anymore due to health and the obvious.
WHERE IS HE NOW? PROFESSIONAL GUESSES...

THAILAND: A good 95%. Bangkok, Pattaya and possibly Hua Hin or south Thailand. Pattaya was known to be his primary operating hub after semi-retiring from professional conning in Bangkok in 2010. Holds several properties around the country in other company (Thai nominee) names such as Mackenzie Smith or Mackenzie Taylor.
Highly likely all is in a trust and will to his adult sons in the UK. Note* His victims bought these.
LOCAL REWARD of 175,000 Thai Baht or $5,000 USD leading to the location and capture for the police. All inquiries, casual tips and even people protecting him will be kept in the utmost confidence or confidential.***LEGAL NOTE*** This blog is NOT defamation, libel or slander.

This is a wanted fugitive for criminal convictions (active arrest warrants) and his victims justice. Other than running a fraudulent gun-for-hire law firm known as Mackenzie Smith Law (seed funded by his first Ponzi scheme Managed Savings Ltd.) he additionally ran a land banking investment called White Sands Beach in Trat and helped/owned a shell company marketing scheme called Royal Siam Trust from 2004-2010 (the money being collected in Hong Kong).
Recently the main asset White Sands Beach Co. was illegally sold by his former Thai wife to a small law firm; and another foreigner and his Thai wife now owning full ownership rights that DOES NOT BELONG to them.
Your help will be appreciated by his victims, the courts, the police and rewarded for his capture and certain location and address.
For legal reasons we cannot openly post certified copies of his arrest warrants but under conditions via mail or in person (police) to prevent an array of problems or set backs including him being tipped off to go into hiding again, or run.

Contact:
gregpitt.manhunt@gmail.comTwitter: @findgregpitt+66 0973580725Make sure to have some valid proof of his location and for us to begin the procedure for his capture including a generous reward in cash or bank wire. Again, we can provide certified copies of his warrants in confidence and you may remain anonymous with the police as well as simply a tipster to find this white collar criminal at large. For your information he is not considered armed and dangerous whatsoever and a coward.