FOR HEAVEN'S SAKE BRING BACK THE GUNMAN!
I am not even going to write this story. It tells itself. Or
at least a website does. But it's a prime example of what can go wrong with
house buying in Thailand
.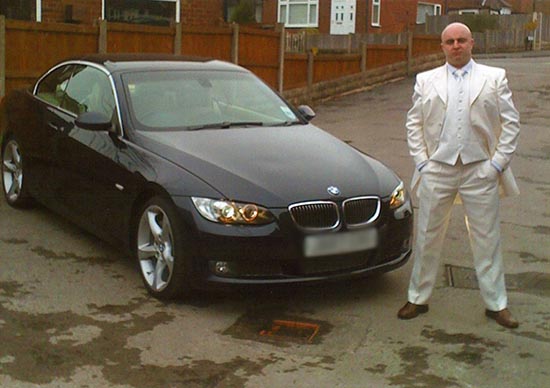 (Picture: Jason Coghlan wearing what robber's wear when they go out with their dolls. Inside the jacket
the label says 'Gangster')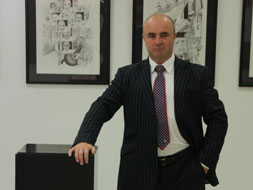 Jason's new look as legal advisor to the
crims on the Costa del Sol
The residents here in Hua Hin still apparently have a collective water
bill, seven years on. Some houses are legal some are not. Some people are
paying their service charges, some are not. The courts are beleaguered with cases. Some have papers, some don't. This is
Avalon, the city of Arthurian legend.
It's the predecessor of another project shortly to be
offered in Hua Hin – 'CASA NOVA'.
They are trying to change the name to Mubaan Khao Noi so prospective buyers are not forewarned.
Prices at Avalon are going through the floor. City hall is fed up. The residents are fed up. The developer is fed up, the management are fed up. the police are fed up and management and guards (referred to as sleeping beauties) have been insulted and attacked, residents feel they have been robbed blind….so much for the paradise they were sold.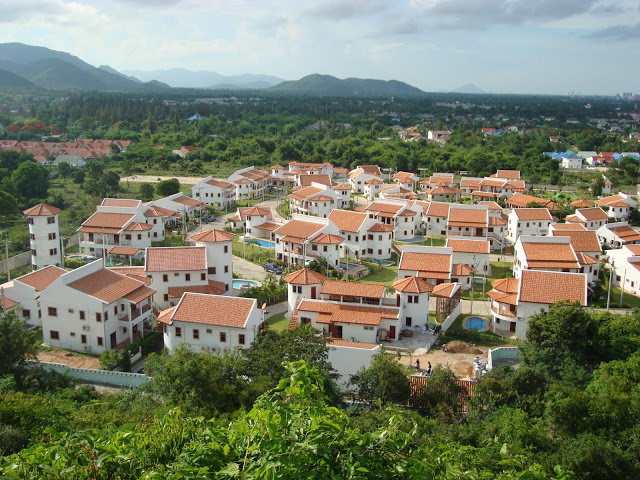 I have written about
it before though – when Briton
Jason Coghlan
, older brother of Arran Coghlan, 'The
Teflon Don' – was given a house at the mouth of the complex to 'legally' keep
the residents in order.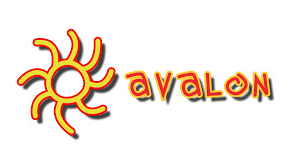 He did this by telling people to settle their bills sensibly
– but to emphasis the point he used to while away the time shooting at plastic
crocs and sharks in his swimming pool, which, he complained like many other residents,
leaked.
He disappeared just before an armed police raid and is now happily
running a law office in Spain. I think he had some success at Avalon though.
From Puerto Banus the former 'Double Category A' prisoner and robber says: "I'll come back and take the residents side if they want'. He plans to open an office in Bangkok.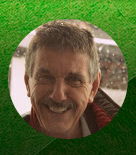 Dinkie Hendrikse
'Dinkie' Dingeman Hendrikse the property developer has
finally resigned from the residents committee to much relief. But there is no love lost between some
residents and the cavalier Dutchman.
For the everyday story of foreign folk on an estate in
Thailand read
here
. This is a classic case of management trying to keep the rabble in order.
And for the original:
GANGLAND BRITAIN IN THAILAND – DINKIE'S ENFORCER
Consumer Tips:
The pluses of buying into a foreign only estate in Thailand
Er, let me think. There's lots of other foreigners.
Your dog probably won't get poisoned if it misbehaves or you do.
You have the privilege of no rights.
In some you have the privilege of paying western prices for water and electricity and service fees.
The guards tip off the robbers as to who is richest.
The pluses of buying into a normal Thai estate


The Thais can run the show and you won't have any problems. They know their rights and you just follow on.
If you don't have the cash to pay the service fees, don't worry, they won't be paying them either.
Due to kreng jai nobody asks to borrow your sugar, but you get plenty of Thai dishes which neighbours ask you to try out.
You however have no kreng jai and can borrow everything, find neighbours to fix your home theatre, or water heater, flat tyre, whatever.
You won't have to spend so much beer on your neighbours unlike seasoned foreign imbibers. Just one and most are away with the fairies and introducing you to all the available ladies in town. (If you're single that is)
You will not have to deal with a ridiculous list from a crooked property developer telling you how to behave.
You can hold a party for just a couple of grand.
The guards will do your gardening for a small fee if you are not up to it (In their off duty hours of course)
Disadvantages: 'They count the pairs of ladies shoes outside your door in the morning'.