PRODUCTION IN 'A MESS' – BUT THE SHOW IS GOING ON-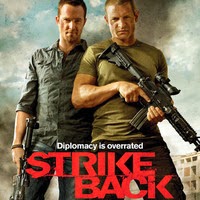 'Strike Back' tough guy Sullivan Stapleton has been injured in a late night incident in Thailand after falling out of a three wheeled taxi – known locally as a 'tuk tuk'.


The Australian born actor ,who plays joint lead in the Sky TV series 'Strike Back' with Philip Winchester is reported to have fallen out of the tuk tuk after a night out in Bangkok.
The incident was reported to have threatened to completely stop filming after Stapleton was admitted to hospital with head injuries after falling from the open sided vehicle.
The production crew have been sworn to secrecy in a production already reportedly to have suffered some teething verbal clashes between the Thai and British crews, according to one of those on set.
"Some of the Thai crew have walked off set complaining of impolite treatment", he said. "One crew member was yelled at by a leading actor, after he physically assaulted an extra."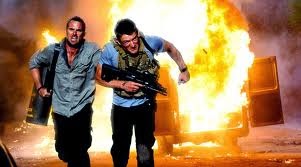 Recently Melbourne born Sullivan was quoted as saying: "We can all blow s**t up and kill people – that's the easy part."
"But we're trying to add some realism and more human elements to these dudes – that's the struggle."
In the recent incident the actor may have shown a little too much of his 'human side'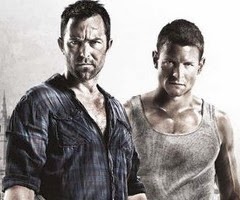 Stapleton Sullivan and Phillip Winchester
Charles Salmon Head of Thai Occidental Productions, which is providing local production facilities confirmed there was an incident but said: "This did not happen on set, so it is a private matter. I am sure Sullivan wants his privacy to be respected.
"Production is continuing."
The insider said however: 'That's not quite true. It's a mess at the moment. Sullivan is going to be out of action for months."
Sullivan, 27, has recently starred in '300 Rise of an Empire' playing Greek general Themistokles, which is due
for release later this year.
THIS SHOWBIZ STORY REPLACES AN ARTICLE ON A BBC PRODUCTION WHICH I WAS ASKED TO WITHDRAW BY THE PRODUCTION COMPANY AS AUNTIE HAD NOT YET GIVEN GREEN LIGHT FOR ANY PUBLICITY. I will write about it when it becomes news.