POLICE FAIL TO FIND ATTACKERS


THEN VICTIM WAS PENALISED FOR WANTING TO GO HOME!


Three young British women tourists were attacked so savagely on their first night in Bangkok that a British newspaper has refused to publish full details of their injuries.


Megan Ogden, 26, and two of her friends were followed to their hotel room where Megan was repeatedly struck in the face and needed stitches, her friend had her jaw broken and the other had serious injuries, and two of the three women were left unconscious.
Said Megan: 'My face was so swollen, I was in shock and terrified. I just wanted to go home."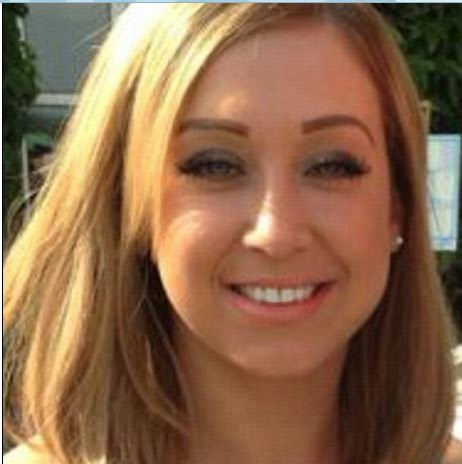 The woman were taken to hospital. The incident was reported to Thai police who never caught her attacker .
'And, as the police hadn't been caught the attacker, I just didn't feel safe. No one with any human decency would have expected me to stay in Thailand after such a horrifying attack," said Megan, from Bristol.
This report was not on the front pages of the British press because like most attacks in Thailand it was not reported at the time.
The Embassy knew of course, but whichever police station was involved, did not make the attack public.
'Medical tourism?'
Even after being discharged from the hospital Megan and her friends paid to stay longer because they felt unsafe going out.
The report was in 'Money Mail' a subsidiary of the Daily Mail, but this publication is not yet banned in Thailand. The link is here. No details are given of when and where the attack was.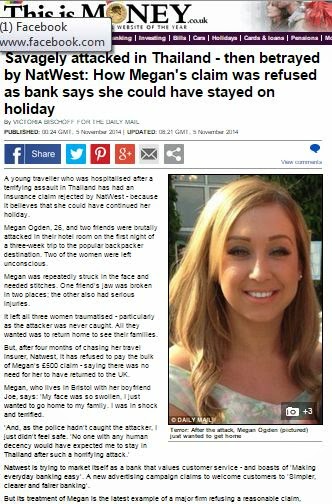 Why did Money Mail take up the story? Well when she returned home Megan made an insurance claim.
It included a £124.95 for her medical bill, £37-worth of dental treatment, £109.60 to cover the fee she paid to change her flight, a £171.19 refund for internal flights that had been pre-booked and a hotel stay she wouldn't use, and £181.75 for call charges she'd incurred phoning family after the attack.
That seemed reasonable enough.
But Natwest asked her why she did not continue with her holiday.

"Physically you can continue with your trip, right?"
They paid just for £76.27. That was £498.22 less than her claim.
Natwest Insurance was eventually shamed into paying up.