-HUMAN RIGHTS DEFENDER STANDS BY HIS ATTACK ON THAI TREATMENT OF BURMESE LABOUR-
THAILAND IS PRESENTING FALSE IMAGE TO GLOBAL COMMUNITY – SAYS BRITISH 'SPY'-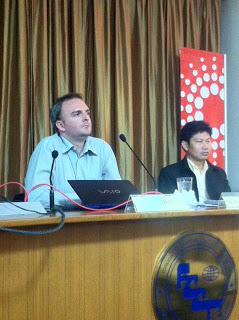 Hall at the FCCT
Andy Hall, the British Human Rights defender, who is being sued in Thailand for criminal and civil libel for criticising a company which he claimed was abusing Burmese labour, says he is too busy to waste time on 'unfounded cases'- but may counter sue.
Hall, 33, who said he was described as a spy by Thai fruit canning and cultivation companies, today issued a statement from Yangon (Rangoon) saying that Thailand was giving a false impression that it was tackling its migrant labour issues.
And he said he stuck by everything he said about the company Natural Fruit which farms and cans pineapple in Pranburi, Prachuap Khiri Kan Province, which was the subject of a report by Finnwatch.
Here follows the statement of Andy Hall, now employed by IMG – International Management Group—which advises the Myanmar (Burmese) Government on migrant issues

'Politically charged criminal and civil prosecutions against me are likely part of a wider and more aggressive campaign to silence me and my colleagues, to undermine freedom of expression more generally in Thailand and to distract me from my work to enhance protection of migrant workers and reduce their systematic exploitation.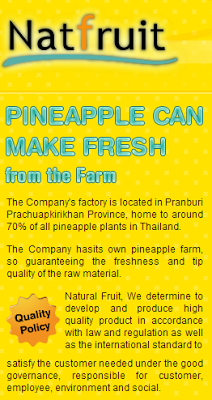 It seems to be a campaign to assist Thailand to continue to spread a false image to the global community that it is seriously tackling trafficking in persons and migrant exploitation when the on the ground situation shows this clearly continues not to be the case.
Abuse against migrants remains systematic and entwined with abuse by corrupt law enforcement officials, employers and politicians themselves.
I stick to the methodological validity of my research for Finnwatch with a significant number of migrant workers from Natural Fruit's plant.
These workers' rights were reported to be severely breached by Natural Fruit back in November 2012 when I undertook the research, and although there have been some improvements, conditions at the factory continue to be reported to be unlawful in many ways even today.
I have no plan to attend any court hearings until I am legally obliged as I am too busy to waste time on this unfounded case.
I have begun to form a team of experienced human rights lawyers' to defend this unfounded and aggressive case.
We shall likely be forced to file a counter suit against Natural Fruit if they refuse to withdraw this case and if and when the exact details of the charges against me are actually formally communicated to me by the prosecution or the court.'


The official record of the criminal case filed against Andy Hall, originally from Spalding, Lincs., can be found here