British 'off plan' property kings Errol Salih and Selwyn Casey – the men who brought us England footballer Joe Cole and gave him a free condo in a non-existent project in Hua Hin  have made a tactical withdrawal and have been dismissed from their property rental business, Club Lersuang in Phuket.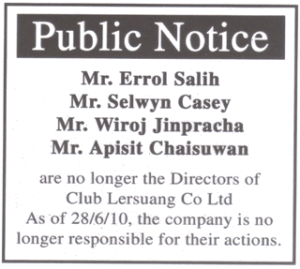 The Phuket Gazette has publish a public notice announcing that the feisty 'suvern' lads are no longer directors of Club Lersuang  Co. Ltd and as of last month the company is no longer responsible for their actions.
I am not sure what this means to those who have lost thousands upon thousands in some of their projects but hopefully there will be no more victims in the future.
Sadly though, it seems all to much like nobody is going to be responsible for those unfortunate people who put money down on the say so of these guys.
In a remarkably obsequious interview in the Phuket Gazette last year Salih put his woes down to Thailand's troubles and the recession.
There's nothing quite like understating their case. He even had the gall to say nobody has lost money on any of the company ventures.  Lersuang heavily promoted the Hua Hin Country Club, together with a Hua Hin developer and publisher Colin Devonshire, and flew out Joe Cole, who this week signed for Liverpool F.C., to get publicity in the local rags and in the UK.
On their website they showed construction pictures, taken on another developer's site, and sat back as the money came in….and it did…in part due to their publicity coup
Their sales director Danny Matthews, another colourful character, has been on to me describing the problems he has had with people who put cash down.
'I always thought this was a genuine project but the money did not go into the construction,' he said adding that he was furious about what had happened, but presumably not as furious as those who had put their cash down.'

Briton Colin Devonshire also parted company with the 'Lersuang lads' but has his own problems in Hua Hin and is himself not smelling of frangipani in the Country Club fiasco. A long time ago he said those who lost money would get homes in his 'new project'.  Needless to say they are still waiting.  It could be a long wait as he has already sold the land.

Meanwhile in May this year in a summary of foreigners arrested on various charges in Phuket – Phuketwan noted that both Casey and Salih noted for their brawling were arrested in Patong for bouncing a Czech, sorry cheque…….. of the paper variety.

So a timely reminder for those wishing to put money in property in Thailand. Check EVERYTHING out.