Just when the tourism woes of the Thai province of Krabi seemed to have died down, the video 'Evil Man in Krabi' having been put to the back of most people's minds, another blow comes from the Sun.

Britain's biggest selling daily has run a story about a machete attack on a young British couple there.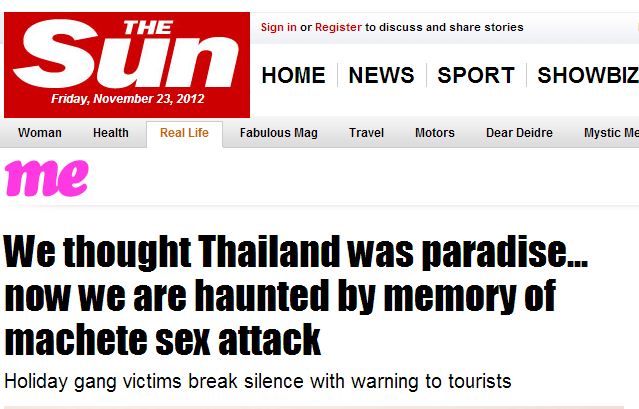 Actually they have returned to the story. They published the original story along with other British newspapers on October 27th with copy sent from here.
But now across two pages read by millions in Britain Jack Cole and Ashley Clifton have relived their horror.
The Sun lists the number of Britons who died in Thailand in 2010 and 2011 and while it qualifies its story with a piece by its deputy travel editor, who says Thailand is safe if tourists exercise 'common sense and caution' it is clear that there were no measures the couple could have taken against this unprovoked attack but stay in their hotel.
Jack Cole and Ashley Clifton were attacked by a gang of teenagers while walking back after dinner in Ao Nang to get a boat to their hotel – the Centara Grand.
The 21-year-olds from Bath, Avon, had paid out £3000 for their dream holiday. Jack was stabbed six times. Any one of the blows could have been fatal
It's said that tourism breeds contempt. That has happened in many cases in Spain and Greece.
But when it happens in Thailand – just how many fatalities will occur?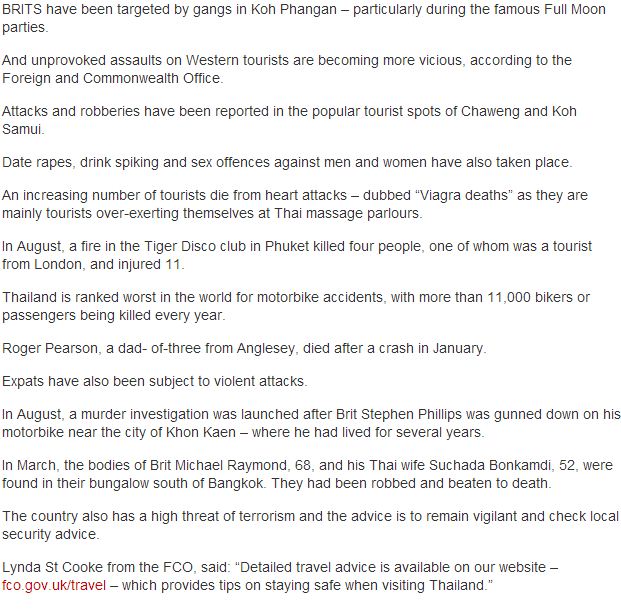 The SUN's view
Krabi Province has learned from bitter experience that there is only one way to deal with this problem. Good policing – not by trying to answer back in a seemingly vengeful way as they did in a recent case when they revealed the identity of the 19-year-old Dutch girl, while the Minister of Tourism was quoted as saying the case could not really be considered rape as she had dinner with her attacker and another foreigner.
There is little they can do about the present story – but take it on the chin – and, of course, protect tourists.
Thailand Tourism Set For New Scandal
Briton stabbed defending girlfriend
==========================================
Note to regular readers: Since November 13 when this site was rated 355 in Thailand it has steadily risen up the Alexa charts. It is now number 269 in a country where English can hardly be described as universally spoken.

My rival site which allegedly exposes my dirty deeds – drummond, watch blogspot – the brain child of Drew Walter Noyes, – of the Pattaya Times is currently at 15,965 place.

Take a look and put up his figures. Today I am exposed for being a 'friend'of a murderer. Actually I have met lots of murderers and interviewed quite a few – but I have never met the guy in question.

He also claims inter-alai that I have falsified my qualifacations ( not true, as if The Times never checked – but this from a phony lawyer with '14 years service to the King)

And of most concern – I am being hunted by police. Er, but he said that last year. For Drew Noyes just google his name.