YOUNG BURMESE KEEPING UP THEIR SPIRITS IN JAIL IN KOH SAMUI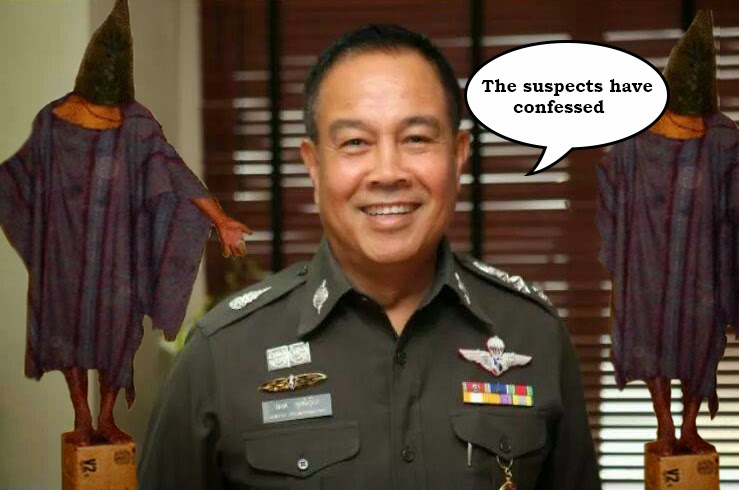 Zaw Lin and Wei Phyo, the two Burmese migrant workers being held for the murders of Britons Hannah Witheridge and David Miller on Koh Tao are reported today to be keeping up their spirits in prison in Koh Sanui,
While it is not the practice of this site to keep tabs on conditions in prison in Thailand for prisoners on murder charges, the many doubts that remain about the Thai police investigation and Scotland Yard's reaction to it, require that this case be watched rather closely.
The parents of Hannah are appealing in the UK for funds to attend the trial in July but in the meanwhile information given to this site but which I have not yet had permission to release provides further doubt on the Thai police investigation – in an island archipelago particularly well known for its greedy policemen.
And a general view that these 21-year-old Burmese men are scapegoats has not been diluted by police claims that they carried out a text book investigation.
The following is the latest from the Migrant Workers' Rights Network.
(The photo-shopped pictures accompanying this report should be taken on face value, nothing else and we know that both the military and police have a sense of humour. (That's right isn't it ED?)


MIGRANT WORKERS RIGHTS NETWORK
"This morning, MWRN's international affairs advisor Andy Hall, accompanied by HRDF's Mahachai project coordinator Aye Mar Cho and also Heidi Anna, visited Koh Tao case defendants Zaw Lin and Wei Phyo at Koh Samui prison.
This visit was MWRN's first since 12th January during which past time MWRN however continued to organise, supported by MWRN's Justice: Koh Tao case fundraiser, for 3 visits a week to the guys by our Koh Samui network.
Today we met Zaw Lin and Wei Phyo primarily as a humanitarian visit to check their health and welfare, so as to give them a chance to engage outsiders and provide them emotional support. But we could also update them on the ongoing and extensive work of the Koh Tao defence team lawyers in Bangkok and the situations of their families,
especially Wei Phyo's father, in Myanmar. We informed Wei Phyo that his father and mother were being provided a lot of support and all operation costs for his sick father, who is now conscious, eating and speaking, were covered. We could also inform both guys of how the Rakhine migrant community in Thailand is currently supporting both of their families with money every month to make up for the temporary loss of a child breadwinner.
After the visit, MWRN was able to deposit some donated books, Facebook support messages and letters for the guys. In addition, we could show the guys all the Facebook letters and donated books during the visit. MWRN also deposited funds into the guys prison bank accounts, one of which was running quite low in cash, and we purchased for them water, mama and canned fish.
During today's visit, both guys looks visibly healthy and strong. Both smiled and laughed throughout. In contrast to the other prisoners around, both wore new matching Lanna style clean and smart looking shirts they said they purchased inside the prison recently for 120 baht each.
Wei Phyo had sown on the left side of his new t-shirt a beautiful dove, and when asked about it, said it was a symbol of hope and also joked with smiles that it was too a symbol that he wanted to fly away from his existing situation. Zaw Lin had sown on the left hand side of his shirt only his name.
Today we had a good chance to chat and exchange with both of the accused on their feelings and reflections.
Zaw Lin and Wei Phyo have now been incarcerated for almost 150 days in Koh Samui prison and, although they said they remained strong and healthy in body and mind and they said prison is not a big deal for men like them, they both said they still find the incarceration challenging at times and they want to be out of the prison as soon as possible, particularly as both insist that even though they were not perfect sons, they were not involved in any way in the heinous Koh Tao murders. Both said being in prison was the worst experience in their lives.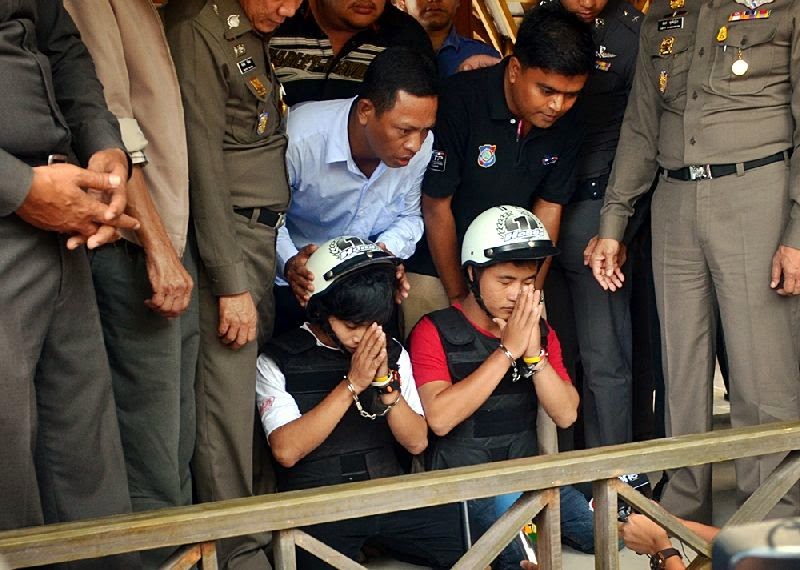 'Go on. Say you're sorry- Louder!'
However, both guys said that because of all the support and regular visits they have received since their initial incarceration from so many different people, and all the letters, drawings, pictures and Facebook print outs they received, as well as Myanmar reading books and learning English language books, stationary and note pads, they had managed to avoid too much depression or stress inside the prison and keep up hope and strength for a future with their families back in Myanmar.
Both Zaw Lin and Wei Phyo said today they would never give up hope of freedom, truth and justice and would indeed fight both for the dignity especially of their parents but also their country.
Both said that if not for the support they had received, they would surely have already lost hope in ever returning to see their families and country again. Both insisted they are sure they will soon be free of this existing nightmare when justice is achieved in their case.
Zaw Lin and Wei Phyo today talked about poor translators during their arrest and interrogation by police as well as physical abuse as being the main cause of their wrongful detention and prosecution.
However, both insisted it was their karma to be in this poor position and they importantly did not want to blame any particular individual for the wrong that has already befallen them.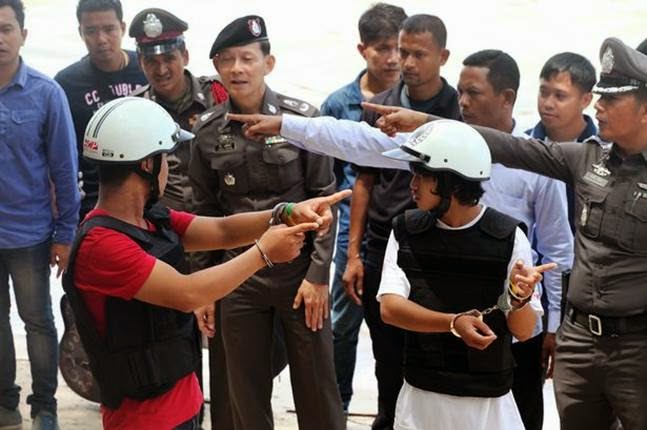 "We went this way – no that way!"
Both Zaw Lin and Wei Phyo said they longed for the day to be able to tell the truth and speak up by themselves, as for now they have been wrongfully silenced. They said they are dedicated to find justice from this case and their recent challenging experiences.

Zaw Lin and Wei Phyo said that in jail, they had also met and spoke to people, including many from Myanmar, who were not bad people and heard stories from prisoners who alleged it was actually bad people outside of prison that resulted in them being incarcerated and unable to speak out for truth and justice too. Both guys said they received as much important support from people inside the prison as they did from people outside.
Zaw Lin and Wei Phyo both stressed how grateful they both were for all the support and understanding they have in the past and still now received from others.
PHOTO-SHOPPED PICTURES: THE WEAPON