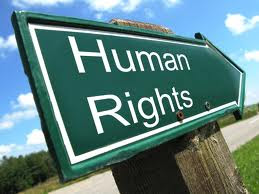 HUMAN RIGHTS COMEDY IN THAILAND CONTINUES –




Human Rights Watch is not surprisingly up in arms against the proposed constitution of the Thai National Human Rights Commission, one of which is a notorious supporter of the lèse majesté laws under which anybody can be locked up for saying something which somebody not the King believes is insulting to Thailand's ailing monarch.
Actually General Prayuth Chan-ocha removed the teeth of the TNHRC, as well as the Department of Special Investigations a long time ago when he abolished the 2007 constitution. Since then the teeth of these organisations have been extracted.
Now apparently the military is using laughing gas as it fills the cavities with judges, an ultra-rightist, and maybe one or two token liberals.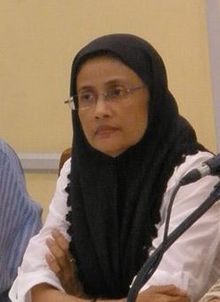 The one saving grace, who might be included among the liberals, is of course the inclusion of Angkhana Neelaphaijit who is still cannot get the police or army to account for the disappearance of her husband Somchai, a lawyer, who was under attack from the police and army for defending alleged members of Jemaah Islamiyah.
But it seems she might be outvoted by such people as Baworn Yasinthorn, a a leader of Citizen Volunteers for Defense of the Three Institutes (Nation, Religion, and Monarchy).
No need to comment on that organisation, but of course Baworn is outspoken in defending the lèse majesté laws, something which obviously is at the heart of the human rights abuse problems Thailand has right now.
There is nothing historically new about the violators of human rights putting their own people on Human Rights Commissions. It usually happens in dictatorships.
When the TNHRC Commission worked it, it worked well.
I spent several days with them in Northern Thailand on the Leo del Pinto murder. (They nailed the killer, police sergeant Uthai Dechachiwat).
I remember at one point we needed an interpreter for Carly Riesig who was giving evidence against the Pai Police in the court in Mae Hong Som. Carly, Del Pinto's friend, was shot but survived.
A local hotel manager stepped in and offered his assistance for free.
"There you see," said a TCHRC official, "Thais are very generous by nature and willing to help with human rights."
I did not disagree of course. But I wondered why the delegate felt the need to say it.
Then of course I realised during the long minivan stints from Chiang Mai to Mae Hong Son I must have regaled them with too many strores of foreigners falling foul of the system in Thailand and how Thai witnesses often disappeared into the ether.
Incidentally we were in Mae Hong Son at the time, not Pai where the murder took place. There certainly were not many witnesses coming forward in Pai to testify against Sergeant Uthai,mainly because they had been told not to and that it was an act of 'treason'.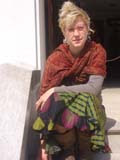 Riesig
And interpreters would have been harder to find there even though every second person appears to be a tour guide.
Which of course leads us to the trial in Koh Samui of the two young Burmese who are alleged to have murdered Brits Hanna Witheridge and David Miller.
There appears to be a real shortage of interpreters for foreign journalists and this has been put down to fear of a mafia which, according to Thai police does not exist.
Here follows the Human Rights Watch statement
(New York, July 24, 2015) – Thailand's national assembly should reject the nominees for the National Human Rights Commission (NHRC), whose selection process did not meet international standards,
Human Rights Watch said today. Upcoming revisions to the Thai constitution should ensure that the NHRC is credible, independent, and accountable, and that its commissioners are chosen in a transparent manner, open to public scrutiny and broad-based participation.
On July 21, 2015, the NHRC's website announced the nominations for the seven-member commission. The selection committee, consisting of senior judges and the national assembly president, reviewed 121 candidates without public input and by applying unknown criteria. Only one of the candidates has a public record of working on human rights, and one has publicly supported repression of fundamental freedoms and opposed universal human rights principles.
"Now more than ever, Thailand needs credible and committed human rights commissioners to address the worsening crisis under military rule," said Brad Adams, Asia director at Human Rights Watch. "Choosing inexperienced and unqualified people seems intended to make the National Human Rights Commission a weak and toothless institution."
The seven nominees are Baworn Yasinthorn, a leader of the ultra-royalist movement Citizen Volunteers for Defense of the Three Institutes (Nation, Religion, and Monarchy); Chatsuda Chandeeying, a school owner and an associate judge of Samut Prakarn province's juvenile and family court; Prakayrat Tonteerawong, a board member of the Thai Women Empowerment Funds and an associate judge of Nonthaburi province's juvenile and family court; Wat Tingsamid, a former supreme court judge; Supachai Thanomsap, a medical doctor at Ramathibodi Hospital; Surachet Satidniramai, the acting permanent secretary of the Public Health Ministry; and Angkhana Neelaphaijit, a well-known human rights defender who has campaigned against enforced disappearance, torture, and other state-sanctioned abuses.
Baworn is widely known for his opposition to freedom of expression and other fundamental human rights principles. On many occasions, Baworn has publicly called for more aggressive enforcement of Thailand's draconian laws on lese majeste (insulting the monarchy) under article 112 of the penal code. He has filed numerous lese majeste complaints against political activists, academics, and journalists.
The International Coordinating Committee of National Institutions for the Promotion and Protection of Human Rights, established in 1993 to strengthen national human rights institutions, issued a report on December 31, 2014, pointing out that Thailand's NHRC was composed of "officials from a very small number of public institutions, with no clear representation, or a requirement for consultation with key stakeholder groups or civil society." The report also questioned the NHRC's independence and credibility, saying that "staff members of the NHRC were displaying publicly their political affiliations whilst undertaking official functions." Based largely on concerns about the commissioners' selection process and performance, the International Coordinating Committee recommended a downgrade in the ranking of the NHRC to "B" status, which would cause the NHRC to lose privileges to present views at the United Nations Human Rights Council.
The Principles Relating to the Status of National Institutions on Human Rights ("Paris Principles"), which were adopted by the UN General Assembly in 1993, state, "the composition of the national institution and the appointment of its members, whether by means of an election or otherwise, shall be established in accordance with a procedure which affords all necessary guarantees to ensure the pluralist representation of the social forces (of civilian society) involved in the protection and promotion of human rights."
"Thailand's National Legislative Assembly should reject this slate of nominees as national human rights commissioners and start over," Adams said. "To prevent the same mistakes from being made again, there needs to be a transparent selection process that ensures credibility, independence, and effectiveness of Thailand's national human rights institution."