EXPAT TEACHER HAD MASSIVE CHILD PORN STASH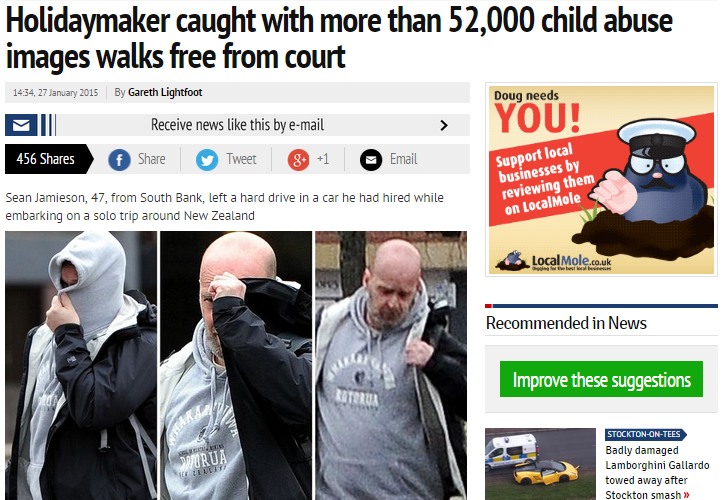 A 47-year-old Briton, described as a former head teacher at a school in Thailand, has walked free from a court on charges relating to the possession of some 52,000 pornographic images of children.


Sean Jamieson, of Middleborough Road, South Bank, had left the images on a hard disc in a car he had hired while visiting New Zealand in 2013.
When the disc was found he had already flown back to Thailand but British police were notified when he returned to the UK.
Jamieson recognized that he had a problem and said he was willing to undergo treatment.
The Middlesborough Gazette reported:
Robert Mochrie, defending, said Jamieson was of previous good character, made full and frank admissions and pleaded guilty before any evidence was served.
He said: "This is a man who fully recognises that he has a problem and he has expressed a willingness to engage with those who are in a position to help him."
He said Jamieson wanted to take part in a sex offender treatment programme and was undergoing counselling.
Judge Tony Briggs told Jamieson: "It's sad to see a person of 47 of previous good character before the courts, particularly for offences of this nature.
"It's sad to say that one frequently encounters images of even greater depravity than the ones that we are concerned with today.
"However in your case there's been a significant quantity of material."