'YOU HAVE TO UNDERTAKE NOT TO GO TO COURT IF THINGS GO WRONG OR REVEAL ANYTHING WE HAVE TOLD YOU'
They are at it again – the outrageous duo American Richard Ian Silver and his former Thai mistress Imorn Leukhamkarn the purveyors of mostly imaginary condominiums in Thailand's mafia controlled eastern seaboard.
Having taken cash on three condominium projects – Bang Saray Beach, Bang Saray Ocean View and Abatalay– they are now telling scammed foreigners they might be in with a chance of a unit at a project they have actually built, even though it's nowhere near the specifications in their glossy ads.
Property  fraud in Pattaya and its environs has now become so outrageous without any action from the police authorities or the local consumer affairs departments that one could almost conclude that the authorities too are on the make.
American Richard Ian Silver, who has the same name and same age as a man wanted in two US states for property fraud, and who ran off with 120 million baht in deposit from a previous off-plan project Royal View Talay, and Imorn have now devised a damage limitation exercise so childish in its nature that it almost defies belief.
However it clearly an attempt to split the hundreds of unhappy Brits, Chinese, Russian, Europeans and Australians who have paid cash for one of their condos, to their extreme regret.
Here's a recap. Having swindled investors in the nonexistent Royal View Talay. Richard Silver together with Imorn then put together packages offering cheap condos to foreigners called Bang Saray Beach, Abatalay, Bang Saray Ocean View and Bang Saray Bay View.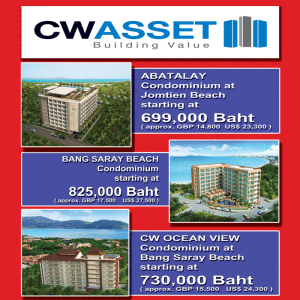 Bang Saray Ocean View has not been started and was due to be completed a year ago. Abatalay was due for completion two years ago but Silver and Leukhamkarn do not even own the land and cannot now buy it, Bayview is nothing more than a pipe dream.
The only one completed, which came in a year late without the promises swimming pool, self-generating solar powered electricity, and state of the art water recycling system, and with just a dozen parking spaces for 200 units, was Bang Saray Beach.
Now people who put cash in to Ocean View (which is clearly not being built) are being offered a deal at Bang Saray Beach Condo. They can switch their money there, they have been told.
This is a bit odd because the bosses of CW Assets had announced a sell-out of this project a long time ago. How many times are they planning to sell it?
Their offer is simply quite amazing. But buyers of Ocean View are only offered the chance to put a down payment on a unit and if they do and there is a dispute the victim cannot take CW Assets to court but have to go to arbitration – and the person initiating the arbitration will have to pay the crippling costs – which would of course exceed the cost of the unit.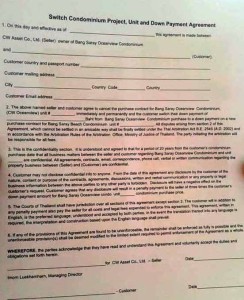 Not only that under Clause 2 the buyers are forbidden to reveal to anybody the contents of any documents, emails, conversations verbal or otherwise, and details of contracts to any third person for 20 years.
Put it another way.
We will lie and cheat and promise you the earth and take your cash. But you won't get anything and you cannot tell anyone about our scamming. Oh and if you do not get a condo you'll have to pay more than the condo is worth to sue us. And you can't use our lies as part of your case.
But what's the bet somebody signs one of these agreements thinking they've pipped the 200 other disgruntled clients at the post. It's happened before.