IS NIELS COLOV MAKING HIS BID FOR CANONISATION?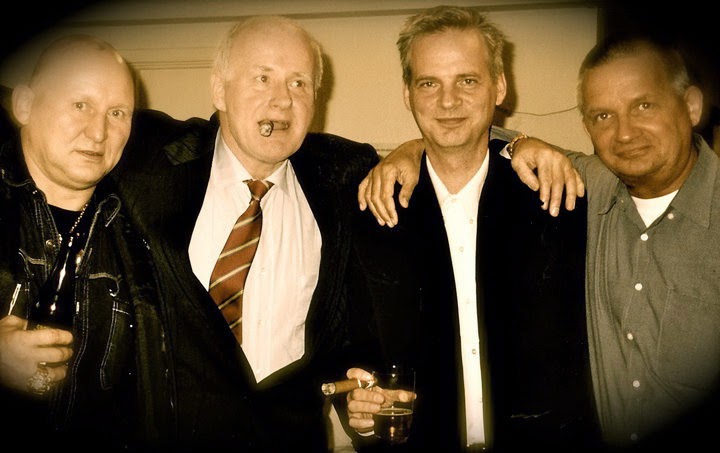 Close to the pearly gates? Niels with a couple of career criminals in
Copenhagen.
Niels Colov, the former Copenhagen gangster, who made a spectacular transition in the Thai resort of Pattaya to become President of the Rotary Club and foreign police volunteers M chief has received a Papal Blessing, readers of his Pattaya People newspaper and viewers of Pattaya People Television have been told.

Actually I missed this, though I should not have because it was the splash story in his Pattaya People; but I can almost hear the heavenly choir beckoning.
Well perhaps not. Niels, according to his own publicity is a devout Buddhist and vegetarian. He has not been saved and thus in the hereafter may be a bunny rabbit instead of entering the pearly gates.
I was of course immediately suspicious, particularly after he was awarded the fake United Nations Cross at a ceremony in a hotel on the outskirts of Bangkok and also became a Knight of Rizal (that one has gone awry by the way).
But no Niels Colov has had a long association with the Father Ray Brennan Foundation which is this year celebrating the 25th Anniversary of its children's home.
Actually anyone can receive a Papal Blessing by standing outside the Vatican on Christmas Day or Easter Sunday but technically the parchment ones, I read, are meant for Catholics (and maybe tourists to Rome). I hope that's not true. We all hoped to be blessed sometime in our lives.
Actually the Father Ray Foundation put in for the Apostolic Blessing on his behalf. I guess it's for his contributions and publicity in the Pattaya People Media Group.
But any Catholic can get one for a few bucks. You can buy them in Rome or write off for them through your Diocese, if there are any Catholics out there who need to know. But don't just believe me just Google.
Apparently the Vatican is now trying to control the business apparently some 600 people face losing their jobs. The money received goes to Papal charities. A calligrapher called Rino Pensa has been making them for 65 years according to a Reuters report how he says he is 'being thrown away like a rag doll' –
Mind you that's a lot less harsh than the words of the prostitute in Copenhagen to whom Colov extended some violence before he came to Thailand. But he did pay his dues in jail if not before the Lord Almighty.
Anyway in an apostolic Blessing the Pope, in this case Francis, calls on the Lord to grant Niels indulgence and forgive all his sins. And on the illuminated parchment paper recognizing his services to the Father Ray Foundation, the Pope goes even further by offering a ' pledge of continued divine protections'.
Well spank my ass and call me Sally I thought the only way to get divine protections in Pattaya was to pay off the Pattaya Police, the courts, invent your own biography and put on a suit, or uniform.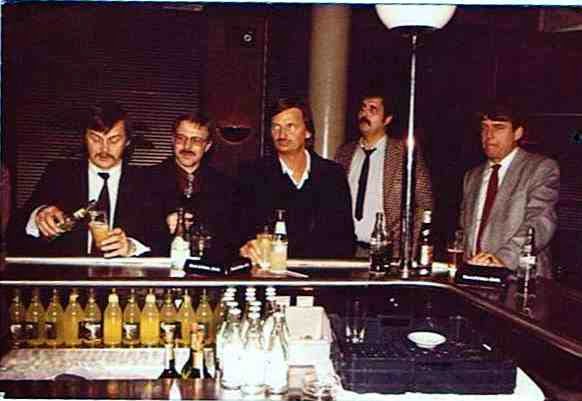 Niels Colov, centre, – a long time before he was blessed with a bunch of , well I guess they are not comedians
in Vesterbro, Copenhagen.
If you watch this video, look at all the gongs and certificates behind him. There's a man who needs reassurance. There's got to be one there for not wetting the toilet seat.
But as somebody once said: "Let he who has not sinned cast the first stone'. Though I can still cannot forget this guy Malcolm Leggett, who ended up working in a rice paddy after going to Niels Colov's office for legal advice after meeting him at the Pattaya Expats Club. That was one of Colov's earlier divine protections.
FORMER GANGSTER GETS FAKE UNITED NATIONS CROSS
PATTAYA PEOPLE PROMOTION FOR LUCIFER'S