Brian Goudie's Last Gasp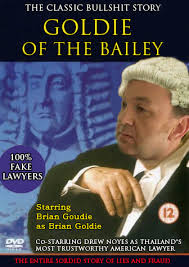 Thailand's most famous fake barrister Brian Goudie, who is appealing a 3 year jail sentence for fraud and embezzlement, just can't give up his chosen mythical career and his boasting on the net how he is now taking further charges against his enemies for contempt of court.

The offence they have committed is, Goudie says, publishing his arrest warrant on the internet. No that's not the arrest warrant for posing as a barrister to cheat a 78-year-old American woman out of US$300,000 – it's one for a number of other charges, one of which is 'revenge porn'.
On his new Facebook page he writes: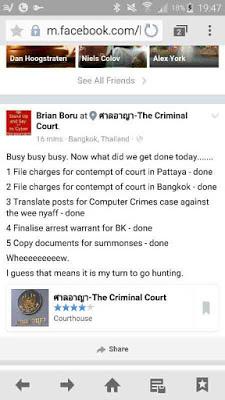 'Busy, busy, busy, now what did we do today?  Filed charges for contempt of court in Pattaya Court. Done.  File charges for contempt of court in Bangkok. Done.
Translate posts for computer crimes cases against the wee nyaff. Done.
Copy documents for summonses. Done.
Wheeeeeeeeeeee
I guess it's my turn to go hunting.'
The Thai Justice system has so far failed to deal with Goudie, who was jailed in Australia under Goldie, the name he was born with in Falkirk, Scotland. But then again every dog has his day.
There appears to be an arrest warrant still current. And he still has to face charges for ripping off two Brits and a German property buyer in Pattaya.
He has been getting away with his crimes because of course Pattaya Police will not investigate cases of foreigners defrauding foreigners.
I have a mind to nip down to Pattaya to enforce it myself.
Meanwhile he looks awful nervous of in this video of him lurking behind his girlfriend in Walking Street, Pattaya, during the New Year. I think he thinks he would be safer in a helmet.