'WE WANT TO FRAG THE DOC! OR ITS YOU!' –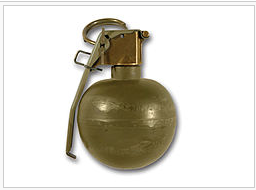 A British scientist who accused the chief of Thailand's National Innovation Agency of plagiarism and ethical misconduct claimed today that he has now getting grenade threats at his Bangkok home.
Dr. Wyn Ellis, 56, said a gang of motorcyclists approached the guard of his housing estate and demanded to be allowed access to his home. They claim he owed money to his boss and wanted to be allowed to give a little harassment.
"They showed the guard several bags of 'ping pong' grenades and told him that if he did not allow them in he might die instead," said Dr. Ellis, from Swansea.
He added that over the last month several cars had been watched parking outside his house at different times and driving slowly past. But when police checked the registration numbers from CCTV footage, they reported that the plates were false.
"Both I and the guard have made complaints to police," said Ellis who added that the number of threatening phone calls to him had now topped 300.
It can be hazardous for a foreigner to make a complaint against a Thai in Thailand. A complaint by a foreigner against a senior Thai would not normally merit much investigation.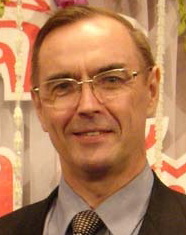 Wyn Ellis
The campaign against Dr. Ellis, an expert on organic farming now working for the U.N. began after he complained in an interview in the Bangkok Post that Supachai Lorlowhakarn, Director of the NIA, had plagiarized both his PhD thesis and an NIA sponsored academic paper about organic asparagus production.
Supachai sued Dr. Ellis nine times without success. Chulalongkorn University revoked his PhD and Supachai was also convicted of criminal forgery and given a suspended sentence after it was revealed that 165 out of just under 180 pages were a direct lift from other peoples work.
He however still retains his position as Director General of Thailand's Innovation Agency.
Dr. Ellis has filed several complaints at the Office of the Ombudsman, alleging that the Ministry of Science and Technology and National Innovation Agency failed to take appropriate disciplinary action following its own investigation.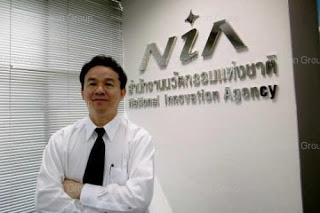 Supachai
Ellis said, "The fox has been left to guard the chickens. The ethics of any organization reflects that of its leaders; so long as they protect such people, both the Ministry and NIA have no credibility and risk becoming an international laughing stock."
Dr. Ellis has expressed concerns for his own safety to the British Embassy in Bangkok and to his department head at the U.N. He cannot find any direct correction to Supachai but he does not owe anybody any money.
An attack on Dr. Wyn Ellis as he went to court to defend himself against a libel brought by the NIA boss was dramatically caught on CCTV and can be seen at this link.
The principal producer of 'ping pong' style grenades is the United States who made the M67 frag and V.41 mini frag grenades.
Below video of attack on Dr.Ellis' car
Comment: These are really worrying times for Dr. Ellis. Under Thailand's justice system he has had to shell out million to defend himself against totally worthless allegations. He is a lot poorer but he has been vindicated. Its a scandal they he now has to pay out more just to recoup his costs.
Of course I know exactly what he is going through. Not only that he now has to worry about his own personal safety for telling the truth. The headline on this story is a little bit light. I love this country but why is it that good honest foreigners here to help out Thailand get it in the neck, while the criminals and spivs live the high life? No wonder there is a local expression. 'Truth will never die. But if you tell it you surely will'. My time comes up in Thailand next year. I am having my kids educated in the U.K. When they are older I hope they will stand up and fight for what is right like Dr. Ellis.