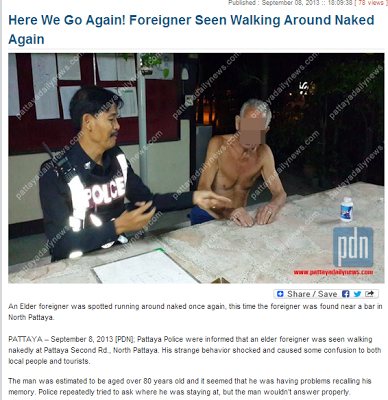 We know the newspapers and online news-sites in Pattaya can be pretty trashy but I felt really angry today at seeing this on the Pattaya Daily News website.


Under the headline 'Here We go Again, Another Foreigner Seen Walking Around Naked' the website shows an eighty year old man semi-naked in a police station.
Quite clearly, and it seems to even be admitted in the report, this man had lost his memory. He probably had Alzheimer's. What's the bl**dy joke Pattaya Daily News? Prey tell me.
Would you do this to an elderly Thai gentleman?
The report looks like it has been written by a foreigner. There must be some decent foreigners down there who can string a sentence together without resorting to smug human debasement.
Just a thought as we bunker down for the night.