SOME OLD WOUNDS, SOME NEW ONES, COME TO THE FORE AS CONTROVERSIAL MURDER TRIAL ROW CONTINUES
As the row over the conviction and death sentences of two young Burmese for the murders of Britons Hannah Witheridge and David Miller on the Thai cisland of Koh Tao continued to boil – it has become apparent that the controversial case has become a rallying point for other victims and relatives of victims of Thai justice.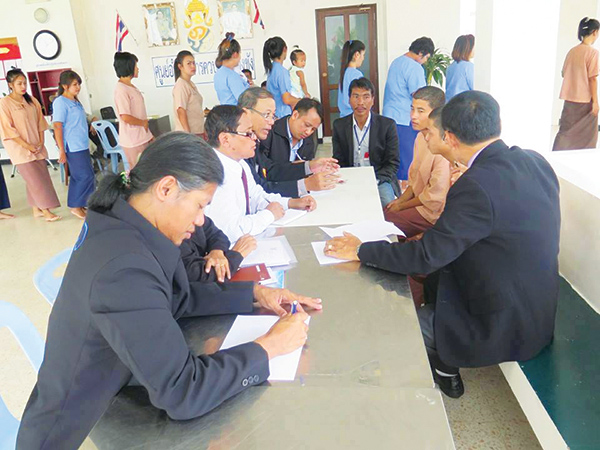 Wai Phyo and Zaw Lin with Burmese Embassy officials pre-trial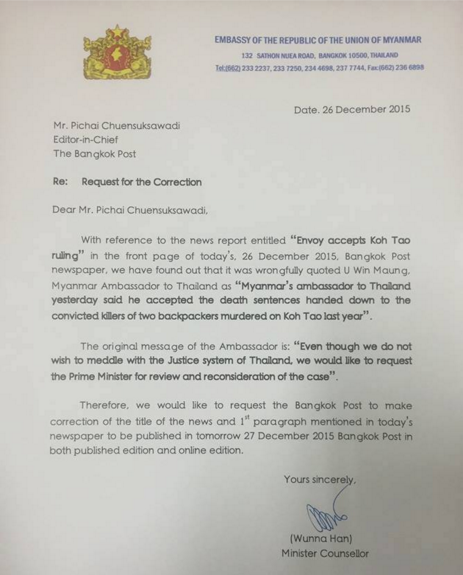 While the Burmese government has asked Thailand to review the case and the Ambassador has complainied about being misquoted in a Bangkok Post report, demonstrations continue in Burma and at Thai Embassies abroad hundreds of Brits, including many expats, have gone on social media to express their views on Thai police and the justice system.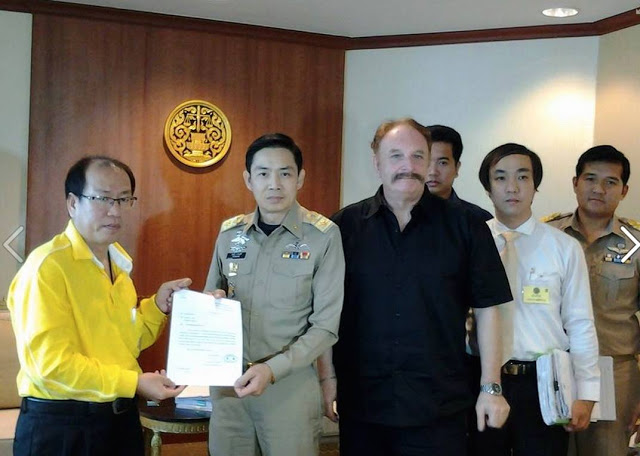 Colin Vard at Ministry of Justice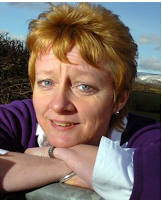 Sue Jones
And they have been joined by Sue Jones, the mother of Kirsty Jones who was murdered and rape in Chiang Mai in 2000, followed by another botched investigation, Pauline Ayling whose husband Paul was murdered in Hua Hin in 2012, followed by seemingly no investigation at all, and Vanida Boongeon whose husband was gunned down in Chaiyaphum in 2013 followed by other failed investigation.
And they are joined by Irish man Colin Vard who had seven properties ripped off him in Phuket he says by crooked police, bank staff, money lenders and lawyer; Briton Ian Rance who was ripped off in a similar way and Annie Hansen mother of Jack Hansen-Bartel who is facing corrupt officials in Samui having been attacked in a club by the son of a Chinese American millionaire.
Colin Vard's daughter has the 'Justice for Jessie' Facebook and a Justice for Jack' page has been set up for Jack Hansen Bartel. The Rance family has several videos up on YouTube.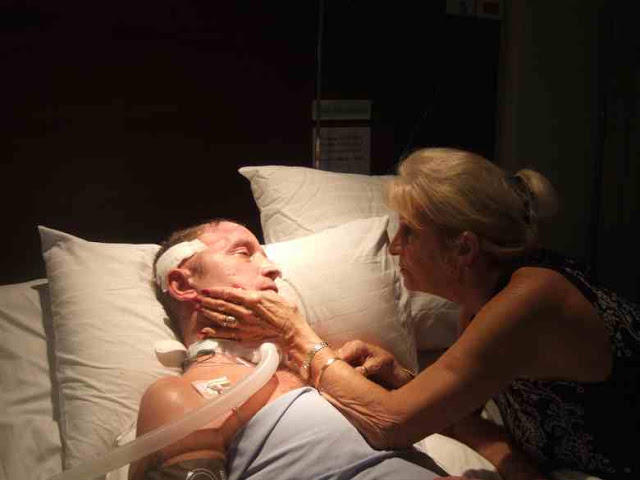 Anita Hayling with her husband in Hua Hin hospital. He was ambushed on his motorbike with a wooden club and died
;later in the UK
A 'Thailand Justice' Facebook page is one of many which carries widespread criticism. The Thai authorities have now backed away from suggesting that it is some sort of political conspiracy against them a theory which was promoted by Deputy Prime Minister Prawit Wongsuwon who wanted a manhunt for the culprits.
Annie Hansen
While Thai citizens know to be wary of their own police force, it appears the government is unaware that foreigners are also wary and have been major victims, and is surprised at the reaction both of westerners and Burmese.

American Thai Vanida Boongeon
Pol Maj Gen Piyaphan Pingmuang announced that there were prosecutions in 126 murder cases involving Myanmar people in Thailand over the past year and wondered why there was no fuss over those cases.
This presumably was to suggest that the Burmese were a murderous lot and this sort of thing was not unusual. However it seems to have had the effect of causing people to wonder what the Thai authorities had done to those 126 Burmese and when will Thailand publish its next murder statistics.
It is now known that the trial judges completely dismissed the evidence of Thailand's Chief Forensic scientist Dr. Pornthip Rojanasund and contemptuously dismissed the evidence of Andy Hall of the Myanmar Workers Rights Network who testified to the discrepancies in the Thai Post Mortem compared with one carried out on Hannah Witheridge in Norwich; and the identification of the 'running man' in the CCTV video on Koh Tao.
And if the following assessment is to be believed it appears that the court did not really understand DNA nor did the prosecution witnesses. This comes from a person who had been at the trial with considerable medical and legal experience.
1. It consists of a one page table replete with hand written amendments, date changes and data alterations. This document would NOT be admissible in any court in the UK, Australia, USA, EU, Hong Kong, Malaysia or Singapore.
2. It is NOT supported by any case notes, chain-of-custody records, nor statistics based on validated population data bases. The omission of that information is a COMPLETE abrogation of international ISO 17025 standards and would lead to a FULL audit of the police laboratory by an international accreditation agency!
3. The table has been used to match DNA components, which is an extreme oversimplification of the entire DNA process! It relies on single alleles rather than genotypes. (An allele is ONE of a pair of genes that appear in ONE part of a chromosome that help to determine heredity traits.)
4. Because there is NO statistical analysis to determine the probability of the stated frequencies in the table, it is absolutely NOT possible to determine the likelihood of the accused as being the contributors to the mixture! There, in fact, could be a VERY large number of other individuals who could NOT be ruled out as contributors!
5. It is, therefore, COMPLETELY erroneous (wrong) to claim a DNA match on the basis of the position of mere alleles on a DNA molecule without statistics to determine the probability!

For these reasons, it CANNOT be said (from any kind of scientific or legal standpoint) that there was a match between the DNA from the semen the police alleged to have and the DNA that was (forcibly, without consent or legal representation) retrieved from the two accused! Basing the conviction on COMPLETELY flawed DNA evidence has resulted in an EXTREME miscarriage of justice!