SO FAR THAI POLICE HAVE SUGGESTED THEY MIGHT SUE INTERNET POSTERS.
BUT THE EMPTY THREATS HAVE NOT STOPPED ALLEGATIONS COMING FAST AND FURIOUS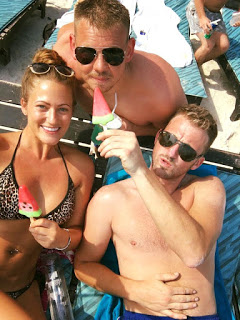 Nichola, Luke, James – FB Luke's Legacy
Holiday friends of Luke Miller whose body was found in the pool of the Sunset Bar on the Thai island of Koh Tao earlier this month are understood to now have made statements to police in the United Kingdom following the return of Miller's body earlier this week.


And while James Gissing and his sister Nichola, who were on holiday with Miller, 36, on the now infamous paradise island, have pulled short of alleging murder, they now appear not to be pulling any punches at all.
In a Facebook post Nichola advocates a boycott of Thailand making it clear that Luke's death was 'no accident'.
She says: ".Our friend was murdered in Koh Tao on January 8. He was beaten and dumped into a swimming pool at Sunset bar on sairee beach. I know this message will probably be removed but If one person sees this who is considering going to Koh Tao my advise to you is don't. If you do decide that you want to risk your lives despite the inherent dangers and also attend these bar crawls,
I urge you to stick with your friends. Do not leave one another's side. The Island is dangerous and you are not safe going anywhere alone, even in pairs you are not safe. Safety in numbers at all times. I am telling you this from personal experience. I do not wish for anyone to go through the pain and horror of losing a loved one in similar circumstances.
We did not attend this pub crawl but I know how crazy they get. Hannah and David were murdered on the beach after attending these pub crawls. Our friend was enjoying a drink at Lotus bar on Sairee beach and was later found "drowned" in the morning. Do not become a story in the world news. Go home to your families alive and not in a box.
Even better do not visit Koh Tao. Our friend Luke Miller arrived home yesterday and a second post mortem will be conducted as obviously the Thai officials would like this to be passed off as an accident. It was not! Please join our page "Luke's legacy ( justice for Luke) " as we find the answers and justice for our friend in the hope that this never happens again."
On the Luke's Legacy Facebook page she added: " we won't let this rest Luke don't you worry. Too many patterns emerging, too many deaths, too many unanswered questions and too much heart ache for so many families just wanting the truth that they deserve.. Beware of Koh Tao there is a killer/killers on the loose free to destroy lives of the innocent."
Miller's death will be the subject of an inquest in the UK. A new post mortem will also be conducted. The Coroner's officer and pathologist will also study photographs taken secretly by James and Nichola at Surat Thani Hospital in the provincial capital.
Friends and family are understood to be tired of suggestions that Miller had an accident while drunk or under the influence of a drugs. This is the line which has been put out by both police and the owners of the Sunset bar, which like the ACDC where Hannah Witheridge and David Miller are said to have had an argument on the night of their death, is also owned by an influential island family.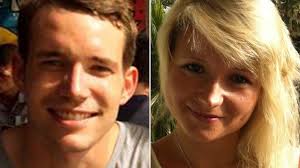 David Miller and Hannah Witheridge
Both James and Nichola Gissing are convinced that the injuries, particularly on Luke's face are not from 'barbed wire' as police suggested but from being beaten.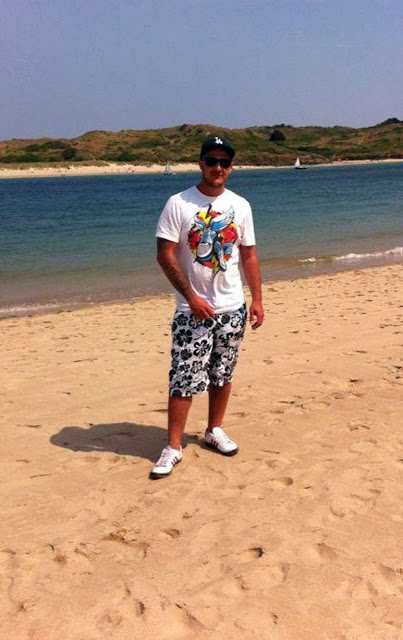 Pearson
The findings of a British Coroner's inquest have no legal standing in Thailand but if those findings suggest murder was involved the Coroner and Hampshire Police can through the Foreign Office request the Thai Police conduct more enquiries.
Whether the Thai authorities carry out meaningful enquiries of course is subject to conjecture.
Dyfed-Powys Police and the Foreign Office have been trying for more than 15 years to get the Thai police to solve the rape and murder of Kirsty Jones from Brecon, in the northern Thai capital of Chiang Mai.
Thai Police have also closed the file on the murders of Hannah Witheridge, 23, and David Miller, on Koh Tao in 2014.
Despite a bungled, or deliberately distorted investigation and a controversial trial, they are standing by he conviction and death sentence of Burmese migrant workers Zaw Lin and Wai Phyo.
Defence lawyers are currently appealing.
And on Koh Tao there still remain controversies over the deaths of young Britons Nick Pearson whose body was found on some rocks on Koh Tao and Christine Annesley, who was found dead in a guest house. She has messaged that she had been taking medicine for a chest infection.