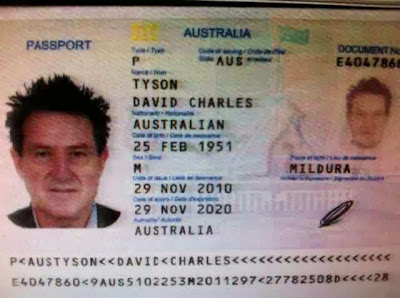 Aussie conman David Tyson exposed here on these pages for his Global -I-Care scam and property sharp dealing on the island of Phuket has surfaced again – this time in Poland.


After trying similar scams out in Vietnam he moved on to Britain, France and Germany and is now hobnobbing with politicians and businessmen in Poland.


And he is telling Polish and other foreign businessman that British journalist Andrew Drummond is in jail for telling lies about him.
Now while this may be wishful thinking for a few people but is it true?
Wait let me check. Yes the view from here is a quiet peaceful lake and the lights of Bangkok are glowing in the background and no sound of clanking chains…just perhaps just a little music coming from the Asoke interchange as the anti-government protesters are sung lullabies, either that or a distant karaoke.
It does not seem like his line is working however. The alert has gone up on this character who is launching a 'loyalty company' called 'Smiles' or or 'Smiiles' something like that.
The only way to keep smiling or 'Smiiling' however is to keep a distance from Mr. Tyson. If anybody wants to verify just who exactly Mr. Tyson is do not hesitate to contact this site and you can hear direct from his victims.