PLAYING THE INTERNET – A BOILER ROOM 'KING', CRASH AND BURN COMPANIES, AND A BRITISH FOOTBALL CLUB.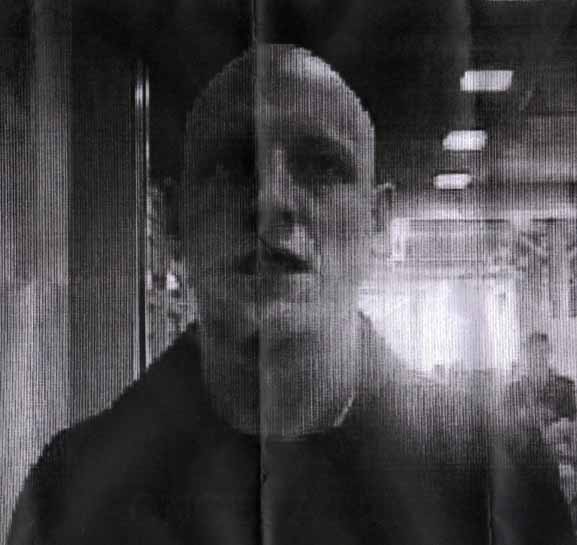 #PaulHayward #PaulHilton
Strange things are happening in cyberspace connected to Birmingham businessman Paul Hayward  the self-proclaimed 'King' of Thai nightlife who has been identified on this website as one of the world's leading boiler room scammers better known as Paul Hilton.
Not only has his real name been redacted in Google UK searches combined with the phrases Thailand and Bangkok and this site  (Google Singapore and the USA throw up completely different and better results) but there now appear on the net two new Paul Haywards
One is an alleged designer and one some sort of photographer and chronicler of life in Thailand.
This combined with some elaborate enhancement of Paul Hayward, an Aussie sportsman who was done together with Warren Fellowes author of 'The Damage Done' for drugs some 20 plus years ago has served to put in the UK at least stories of Paul Hayward the 'Wolf of Bangkok' much further down the list.  But he is still there.
So why would Hayward or Hilton be so concerned about his exposure in Britain, where he was plastered over the local press this year as the secret contributor of some £5 million since 2011 to Crawley Town FC through his company the Eclipse Group?
When I say his company I mean one of the companies he controls through nominees.  Hayward himself is a director of nothing in Thailand despite statements to Google which have mysteriously disappeared from Lumen. And the Eclipse Group has not had a website for over two years.
Hayward of course is indignant in his complaint to Google claiming he runs the biggest nightlife business in Thailand – and has passed the Football Association 'fit and proper test' in connection with his investments in Crawley Town Football Club.
Actually as we pointed out it was not the Football Association test it was the Football League's Owners and Directors tests which covers 'shadow directors' like Hayward and his sidekick Mickey Doherty.
And that test is a self-assessment.
But interestingly one of the clauses defining who would not be suitable for a directorship covers people who have been involved in insolvency or specifically: an Individual Voluntary Arrangement (in accordance with the provisions of Part VIII of the Insolvency Act) including any fast track voluntary arrangement.
Read more at http://www.football-league.co.uk/global/appendix3.aspx#BcyEEDowktEr8KPr.99
It appears #PaulHayward is very shy about his past not only in Bangkok, Jakarta, Manila and Phnom Penh, as a boiler room operator but also shy about his history in Birmingham and the West Midlands in the UK.
Bearing in mind Paul Hayward's claims that he has been building up a respectable property and night life business in Thailand for either 25 years or 14 years records at Companies House in London certainly clash with one of those time spans and suggest while committing no crimes he did a 'crash and burn' in the UK before hot footing it to the Orient with his mum and dad coming along later – and then becoming rich with inordinate speed.
What's for sure is that he did not bring capital earned honestly in the UK to invest in Thailand's entertainment business – or to guarantee the US$70 million for a ten year lease on Nana Plaza, Bangkok premier red light area – unless he made false declarations under the Companies Act.
In fact in the United Kingdom he was a director of four companies all of which crashed and burned.
The Adonis Clothing Company Ltd of 324a Lichfield Road, Sutton Coldfield, West Midlands, B74 2UW, was created on March 20th 2000 and was closed due to a compulsory strike off order in January 2003.
The Saturn Computer Training Company was incorporated in September 2000 and was voluntarily dissolved in March 2002.
World Computer Solutions was incorporated in 1999 but on January 19th 2001 an extraordinary meeting was held to wind up the company due to its liabilities. The company was insolvent.
But it was not finally dissolved until January 2004 by which time Hayward was operating in Bangkok running the Jackson Cole share scam directed among others at people in Britain.
Quite a few people were left out of pocket after this debacle but in his to be fair it has to be said that a lot of people were dissolving companies in the UK about this period to wipe out debts.
Interestingly his father, Stephen Hayward, a machine operator by trade, later to run the Dubliner in Singapore, was the company secretary.  The company owed less than £100,000 to creditors, although that was worth a lot more 15 years ago. Interestingly some £700 was owed to the West Midlands Police Finance Department. I trust that was not for parking tickets for his red Ferrari.
It does not look like he told everything to the Football League or ticked the right boxes.
This below is what he wrote to the local media in the UK after he was persuaded to drop his anonymity.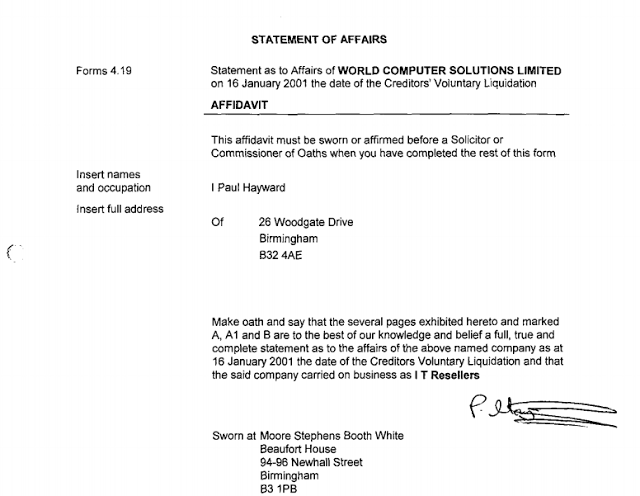 Signed documents in Companies House show the same signature on scams for which he has signed paper work in Bangkok
He talk about his rags to riches rise and portrays himself as a man of the people – something which will not settle well with some of his victims. Hilariously he says that he and Doherty can't even go out and buy a loaf of bread in Bangkok without being recognized as the 'big club guys'.
"My name is Paul Hayward. I was born in Northampton. I have three wonderful children and have been married for 15 years. I currently co-own and manage the largest [night] life group in south East Asia with branches in Thailand, Hong Kong and Singapore. In addition to this we manage and co-own, as landlords, the largest adult entertainment complex in the world, although we don't manage any of the businesses inside the complex.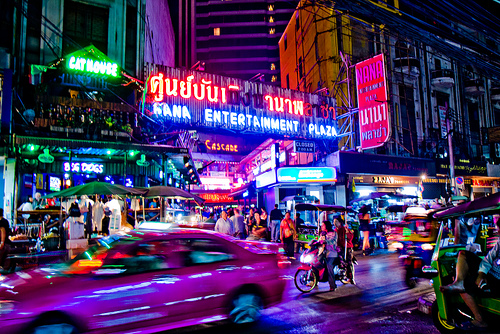 Nana 'largest adult entertainment plaza in the world is an area of go-go and ladyboy bars in Bangkok
"Our group currently has more than 3,000 employees in bars, restaurants and nightclubs. My group was formed in 1998 and started with just two Irish bars. "My business partner, Mickey Doherty, is the group's CEO. Mickey and I have met many Crawley Town fans on our visits. Both Mickey and I have passed the Fit and Proper Persons' Test. Neither of us was needed to take these tests as our roles don't quality us as directors, shadow or otherwise. "The reason we took the tests was for the peace of mind of others.Just more than five years ago, it was brought to my attention that a little non-league club was on the verge of being wound up.

"The club had problems on and off the field, and had a history of bad luck at ownership level. I had been looking to get involved with a football club for some time but hadn't found the right opportunity.
"I wanted to be involved with a club whose supporters had never really tasted success. My favourite story growing up was David and Goliath – I liked the idea of a rags-to-riches rise and taking a little club with 600-average gates to the Championship. Just for the fun of it.
"Once we had paid off all Crawley's bills, we were offered shares of the football club but we politely declined. Mickey and I saw Crawley Town as an escape from high-profile lives in Asia, where we can't buy a loaf of bread without being recognised as the 'big club guys'. For several years it went well, we met fans, home and away, drank our pints in Redz Bar and were accepted as part of the Crawley Town family.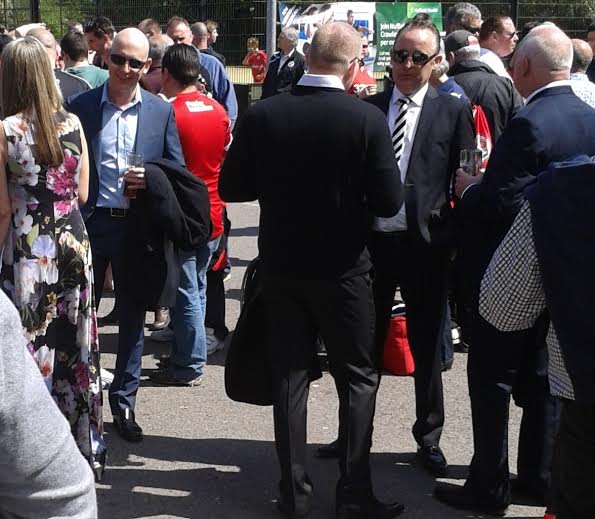 In shades. Paul Hayward (left) and Doherty (right) at Crawley Town FC
"We weren't interested in the boardroom. I prefer a burger and a pint to a prawn sandwich".
Well the last part is certainly true. As has already been revealed here there are no records in Thailand of Hayward being a director of anything.
This despite this statement to Google, in which he appears to have mislaid 1000 employees: 
"Eclipse Group is the largest nightlife group in Thailand with Currently 30 outlets with over 2,000 Employees and 25 years in the business. We can provide emails to you of extortion attempts which have ranged from US$20,000 US$20,000,000, our lawyers will be only too happy to confirm all details. Legal cases in Thailand take up to 7 years for crimes of this nature and we plead with the good people at Google to help us remove the Search Engine key words of our partners and brands to stop them leading to the above websites."
(NB Confederation of Defrauded Victims did indeed demand the return of some US$20 million)
Finally to the Paul Haywards who have suddenly been rocketed to the top of Google searches in Bangkok. The first is Paul Hayward of PaulHaywardBangkok.com . He claims to be a writer on Thailand but his rather mundane blog seems to have its roots elsewhere.
He has written a blog about watching TV in Thailand. The first picture I checked came for instance from another site.
On the left is the picture used on Paul Hayward the chronicler's site.
But here to the right is the same picture on the net with the caption 'Make Sure Your Family is Safe'.
The second new Paul Hayward to be suddenly born as a Bangkok personality is  the Paul at PaulHaywardDesign.
He is according to his blog one of Thailand's top western interior designers after spending  almost two decades in New York -where he is also unknown.
This website was, like the first, started in October.
The picture shown on his website below was actually stolen from the website of Kelly Munchel of KM Interiors of Pensylvania.
Go  to the 'About' page – and there is nothing.
In short Google UK brings up drivel but very little on a guy who is so famous he is scared to go out and buy a loaf of bread.
But of course Hayward is not famous.  Few people know him in Bangkok. He does not like his picture taken. Of course he may be famous soon.