The bizarre background to the arrest of an offshore chef condemned to death as a drugs trafficker for Hell's Angels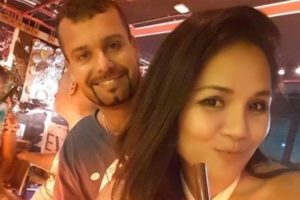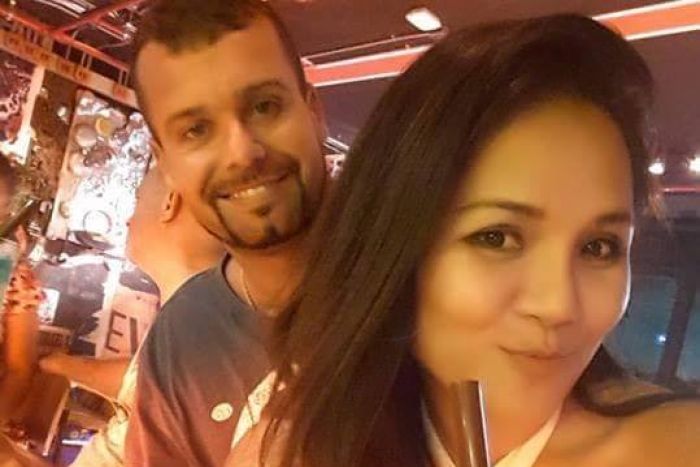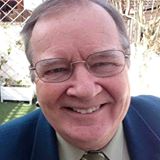 It did not make sense. Luke Cook was a FIFO* chef and catering manager not a Hell's Angel. Could he have really have been partnering the notorious Australian biker chief Wayne Schneider in a massive drugs empire?  Running a bar in Pattaya, Thailand, he would meet a lot of shifty people. No doubt some of them could have had him for breakfast. Somebody did, it's claimed.
In an inscrutable eastern whodunnit over 50 kgs of the drug methamphetamine – 'Ice' – washed up on a beach in the Gulf of Thailand in 2015 needed to be attributed to someone. Two years and one murder later Thai police were presented with the 'guilty party' by their Australian volunteers.  He was 'identified' as FIFO caterer Luke Cook.
A year later after extensive work and briefing of witness testimony they pounced as Luke and his wife returned to Thailand from Australia where they had been monitored by the U.S. DEA.  After a quick trial they were sentenced to death with 23-year-old Californian Tyler Gerard.
But people in the investigation including the chief prosecution witness were trafficking drugs themselves. And the star witness not only bore a grudge but was the facilitator who while working for the Thai police, supplied the house and cars used for the murder in Thailand of Wayne Schneider, a convicted drugs dealer on the run from Australian police.
Antonio Bagnato, the man who orchestrated Schneider's murder, who was also wanted for murder in Sydney, hardly bothered with his defence citing a Thai dancer from a Pattaya disco as his overnight alibi.  But he still got off the Thai murder charge on appeal.
Police investigations and court hearings suspended belief and, as Andrew Drummond reports, the nails that put Luke Cook away were hammered in by fellow Australian 'police volunteers' and 'police volunteers' in Thailand are not often in the game out of a sense of community duty.
*FIFO workers. 'Fly-in.Fly Out'. In Britain 'Offshore Workers' 
****
Luke Cook ложные обвинения арестованы !
Two foreign police volunteers involved in the Thai police investigation resulting in the death sentence last month for Australian Luke Cook on drugs trafficking charges have been forced to leave Thailand after complaining of irregularities in the investigation.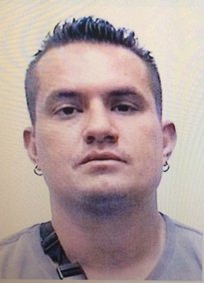 The first volunteer, Russian Boris Klimov,  specifically complained that a member of the same team, an Australian foreign volunteer,  had made up evidence to connect 37-yer-old Luke Cook to a mystery 50.4 kilos of heroin found washed up on a Thai beach – and also to Wayne Schneider (left), the notorious Sydney Hell's Angel, and convicted drugs dealer who was murdered in Thailand in 2015.
The second Thai police volunteer American John Mackey,  who took the original investigation to the Police Colonel in charge and the DEA and who also passed on the Russian's information when it appeared to be going wrong,  further complained that the same volunteers in the murder enquiry were running an international operation trafficking steroids.  This, he said, had reached 'an intolerable level'. He took the same complaints further to Thai based officers of  the United States Drugs Enforcement Administration.
The second police volunteer American John Mackey, who passed on the Russian's information, was the man who initiated the investigation in the first place, something he is shy to talk officially about. But he complained that the same volunteers in the murder enquiry were running an international operation trafficking steroids, which, he said, had reached 'an intolerable level'. He took the same complaints further to Thai based officers of  the United States Drugs Enforcement Administration.
Both complaints were ignored by the Thai Police Colonel in charge and within days of his complaint Klimov said he was set up by a drug dealing rogue member of the team, who, he learned later, had been told of his betrayal.
He was called to a meeting but it was an ambush by immigration police. and slapped around and accused of being 'Russian mafia' before being robbed of all his possessions and deported on a visa irregularity.
To those unfamiliar with the justice system in Thailand this all might seem a bit bizarre. Police volunteers trafficking in steroids? Fitting up people? Fitting each other up. Not unusual at all. Many such volunteers have been caught misbehaving, especially in Pattaya.
The chief of the Pattaya Police Volunteers had for many years been a Dane called Niels Colov, who arrived fresh from a Danish prison over 35 years ago.
Colov, was as a member of the Vesterbro underworld in Copenhagen. He had done time for a variety of offences including 'pimping' and ' coercion'. (His slate was wiped clean under Denmark's Criminal Rehabilitation Act, because he commited not further offences in Denmark for a specific period.  All his future activity was in Thailand, where, while acting as a policeman. Rotary Club President, and media magnate, where he is linked to property and financial scams and even ran his own 'massage parlour' where under aged girls were found.  This story, however gets even more bizarre.
Both complaints were ignored by Thai police and within days of his complaint Klimov said he was set up by a rogue member of the team for deportation.
He was called to a meeting by a colleague, but it was an ambush by immigration police. and he said he was slapped around and accused of being 'Russian mafia' before then being robbed of all his possessions and deported on a visa irregularity.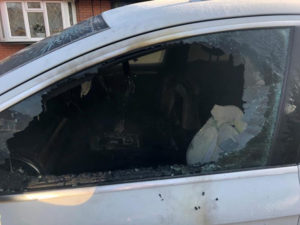 John Mackey quit the unit when no action was taken on his complaint.
But he left the country in a hurry later after a brick was thrown through the window of his Thai wife's car and he received a threatening email from a known Hell's Angels address.
"You  like the tune up on your car?"… Bloody Oath Don't be a drongo mate, keep 81 out of your mouth or get the green light. Tune up those mongrel's kids for ya too. Just keep on talking !"
Sammytheturk
(8 and 1 are the letters of the alphabet H and A - Hells Angels)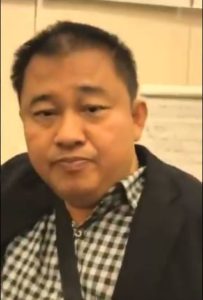 The accused and accusers all belong to a Thai police unit called the Transnational Crime Co-ordination Centre run by Thai Police Lt. Colonel Dullayapat Detpornchayasin, Deputy Superintendent at the Thai Special Branch Bureau's General Staff Division. (right).
He is a hard hitting no-nonsense policeman who arrested Pongpat Chayapan the head of Thailand's Criminal Investigation Bureau in 2014 in what was billed as an anti-corruption purge, which rocked the Thai police to its core.  Recently he has been using 'set a thief to catch a thief' tactics in his pursuit of foreign criminals.
Last month Luke Cook, who owned a bar and boat business in Thailand, his Thai wife Kanyarat Wechatipak, and 23-year-old American Tyler Gerard, were sentenced to death in a headline grabbing case, orchestrated by Lt. Col. Dullayapat involving 'Hell's Angels', a clandestine drugs rendezvous at sea, 50 kg of 'Ice' and millions of dollars.
But Dullaypat's anxious bid to close a case using Thai speaking foreigners, some of dubious standing has raised some questionable issues, one of which is whether the investigators themselves should be in jail.
This week Luke's father, Paul, who was at the court for the verdict in Rayong on Thailand's eastern seaboard said:
"My son was no Hell's Angel. And he would never associate with such a group or group like it and I can only speak to his and my outrage. As there is an appeal in process, I cannot say any more."
Pipat Chantikul, the lawyer for Luke Cook has appealed conviction saying there was 'no evidence linking his client with the 50.4 kg of 'Ice' found washed up on in Rayong, south of Pattaya'.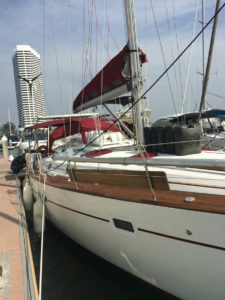 And it also appears from investigations that there was little substance to police claims covered in the international media that Schneider had given Cook US$10 million to bring some 500kg of 'Ice' into Thailand on his yacht 'Jomandy'  or that Cook led an extravagant millionaire's life-style, or that he had even been at sea, picked up the drugs and then dumped them overboard when he was spotted by a Thai coastal patrol.
Where's the US$10 million?
(In the west when police make statements we assume they are telling the truth because they have to answer for what they say. The same does not apply in Thailand. Journalists take Thai police statements with a pinch of salt, nevertheless tend to take them at their word especially if it's a good story and the police version cannot be challenged at the time.)
In fact,  Cook appeared to be in debt when he was arrested in December last year when was returning from a job offshore.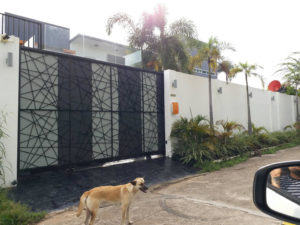 Luke Cook's house: Pic by Boris Klimov. Steroid dealing police volunteer Thierry Perenon's reflection is caught  in the wing mirror – identified from wrist tattoo (below).

AUSSIE FEDS LEFT OUT IN THE COLD
His movements had been monitored by the United States DEA who had been informed of the investigation, while the Australian Federal Police and by default the News South Wales Gangs Unit had been left in the dark.
This was an odd move as two major figures, former Hell's Angel chief Wayne Schneider and Antonio Bagnato, founder of the St. Michael's Fight Club in Sydney, were wanted for the gang related activities – drugs and murder. Australian intelligence should have been useful.
Cook's house was in hock to moneylenders. His wife's BMW was leased.  He did have guns in the house, but perhaps not that unusual in Thailand for people living in big houses in a country area. And by this time Luke was terrified of the 'Hell's Angels'.
No trace of any methamphetamine was found on the 'Jomandy', which in any case,  was now owned by someone else. Nor were there any records at Jomtien Marina of it being at sea on the days when the drugs were found on the beach,  though there were blanks in the boat's log.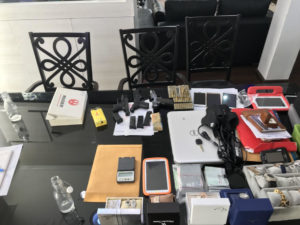 This is known because in drugs trafficking cases in Thailand, Thai police are particularly diligent at seizing the assets of the offender, but there was little to seize (picture above), which, the story goes,  had infuriated Lt.Colonel Dullayapat as he had allegedly spent 500,000 baht of his own money – at least that is what the volunteers say, and the accused seem to agree.
No Thai naval officials or police were called to verify police claims or even produce logs indicating they were in the area at the time.
But the most damning defence evidence of all, if Boris had still been around to tell, and  if he is to be believed, would have been his claims that fellow police volunteer Australian Douglas Shoebridge, known in Pattaya as a bodybuilder and purveyor of steroids in the illegal worldwide trade, had admitted that he had fitted up his fellow countryman Luke Cook who "deserved everything he would get' and 'had it coming to him."
Tracked down to a suburb of Tel Aviv, Israel, Boris said:
"I was shocked when Doug told me he had fitted up Luke. He told me why and he seemed happy about his deed because he said Luke and his wife cheated him. I could not believe he could do that knowing the consequences.

"Doug wanted to open a pharmaceutical company so he could sell steroids with a legal front. He tried to do it though Luke's wife Kookai.  So, she took his money and she sent the paperwork and the fee to the Thailand Food and Drugs department, or so she said.  But Doug never got his company and lost the 150,000 baht (US$4,580) fee for the business.

Doug was furious and demanded his money back but Kookai said the department would not return his fee as they had decided he did not have the qualifications to run a pharmacy.  Doug did not believe her and he said they both deserved to be in jail because of that and other people who had been cheated."
Boris described how he was also in attendance in rooms paid by the police in Wattana Mansion in Ratchadphisek 17, in Bangkok in August 2017 when Doug instructed another offshore worker, Joel Niven McGarry,  in how to deliver evidence supporting his own claims. McGarry was also a police volunteer and qualified mariner, who had come down from the northeastern  provincial town of Udorn Thani to help.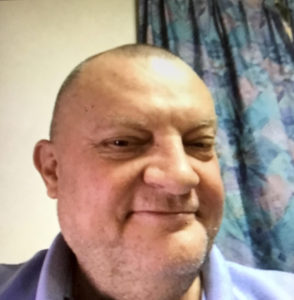 "I  was in the room when he told Joel what to say in court.  Joel is quite old and they had to go over the story over and over again telling him to say that Luke had offered him 500,000 baht to sail a boat to pick up drugs in the ocean in 2015.

"Doug had to show him photos of Luke because Joel had never seen Luke before. They were frightening him telling him the Thai police would be angry.

"Afterwards Joel changed his mind. He would not testify. I heard that then Craig Smith was brought down from Nong Khai to testify in Joel's place."
Joel McGarry, in any case, had messy problems of his own. He had been involved in a case in Udorn Thani in which he had run down and killed a Thai woman and crippled her 11-year-old son. He was known to drink and consume benzodiazepines at the same time, causing blackouts. All these matters could have been brought up if he agreed to testify. But in any case after leaving Bangkok he launched a series of telephone tirades against his colleagues, and Dullayapatm saying he would not testify.
To add to his problems his Thai wife had also taken a case against him for attempted murder and he had counterclaimed that he had been shot (with a BB gun) by his brother- in-law – not an unusual set of in-country circumstances between foreigners and their Thai wives.  As a result of that case he said he was launching a GoFundMe page referring to Thai police corruption.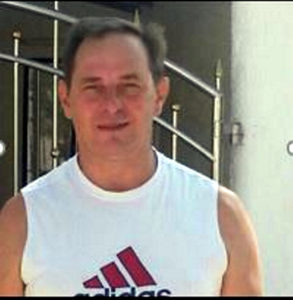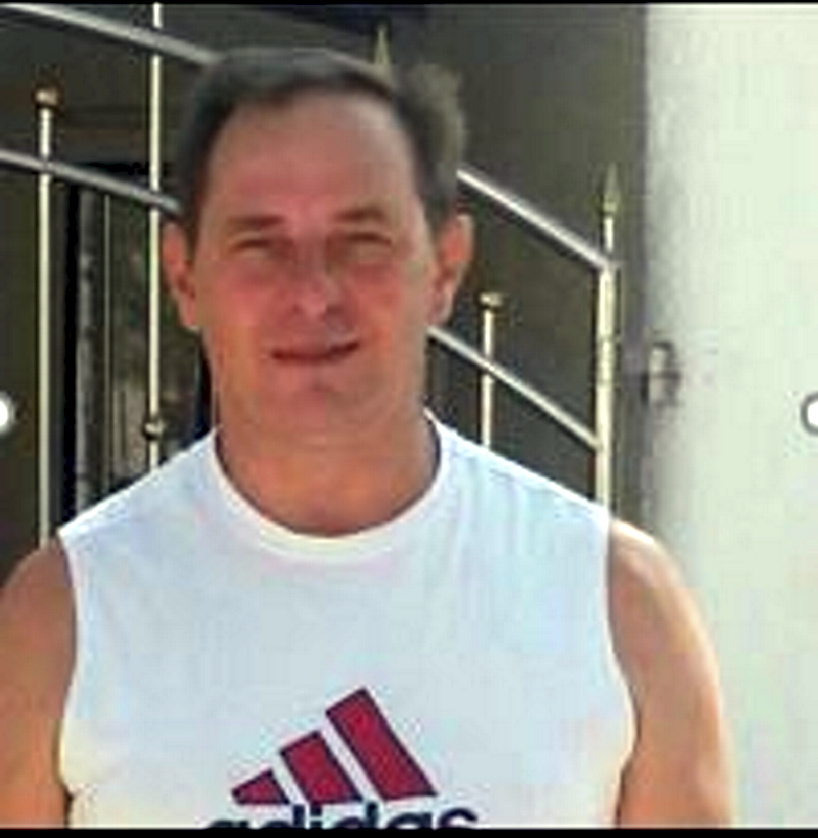 Among those he called had also been Craig Smith (right) who was another FIFO Australian and police volunteer. He translated the paper work for the Luke Cook case, and even witnessed statements,  and had come down to Pattaya from the Mekong river border between Thailand and Laos. He had moved from Pattaya four years previously.
Craig Smith was briefed to say what McGarry had allegedly told him – about what Luke Cook had ordered him to do. (hearsay).
Added Boris:
"I decided to tell everything because it is wrong to setup or frame the people to get a death sentence. I reported it to John and he passed it on."

"But nothing happened. Then I got a call from Thierry Perenon a French member of the team,  who said he wanted to meet me. So, we arranged to meet in a Starbucks in Pattaya.

 

Thierry and Doug used to do lots of the police assignments together. (

left Shoebridge with Perenon together on a bust in Pattaya). 

Video here:

 

"And they both also dealt in steroids and went to the local gym. 

I don't know why I was not suspicious, but when I got to Starbucks, Thierry was not there but instead plain clothed Immigration Police arrested me.

"They then took me to a local hotel, the 'A-One' and interrogated me in an empty restaurant. They slapped me around, accused me of being Russian mafia and demanded to see the contacts on my mobile phone.

The incident was recorded on CCTV and leaked to Russian websites.

"Then they took me to the police station. I had overstayed my visa, which is no big deal if you are leaving the country anyway. You can pay at the airport on the way out. But if you are caught in Thailand without a visa it's much more serious.  I was just lazy to renew. Thierry must have checked.

"Thierry later came to the police station, pretended he knew nothing about it and said never mind he could fix everything for 300,000 baht (US$9,151) but I must first give 150,000.  But I had only 130,000 in my bank so I had to give him my ATM card and my condo key. That's the last I heard from him.  I lost everything I had."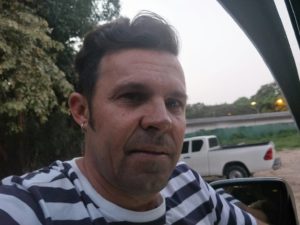 Boris Klimov said one of his roles in the case was to watch the Cook's home and bar and he provided the photos, which were needed by the court to issue a search warrant. Thierry Perenon (left in plain clothes) had put a GPS tracker on Cook's wife's car and also carried out surveillance on the Cooks' home and bar/guest house.
But who is Douglas Shoebridge, apart from being a FIFO 'compass adjuster' who worked as a foreign volunteer police assistant in a seedy Thai resort and who made extra cash selling steroids locally and to Australia?
(He even sold steroids offshore and was angry when the Australian company Total Marine let him go after he tried to sell steroids to a crewman on a vessel – but at Cooks trial he denied dealing.)
For that you one has to go back to the trial of those accused of the murder of Wayne Schneider in 2015 and spot who was absent and lying low because of alleged threats.
Schneider was murdered on November 30th 2015. He was kidnapped from his home in Jomtien Park Villas, Pattaya, taken to a house rented by Bagnato, and severely beaten, Then after he died of the beating his body was taken to a site nearby and buried in a shallow grave.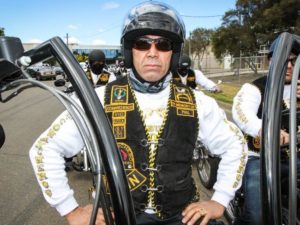 Thai police initially claimed five people were involved, American Stetson Jones, who took a flight out straight away, Australian Mitchell Copeland, who also left by plane, Amad 'Jay' Malkoun, (above) another Australian biker, former Comancheros chief, and a convicted drugs dealer, Tyler Gerard,  a Californian who had been staying with Bagnato and working out with him and Shoebridge at Tony's Gym;  and the leader Antonio Bagnato wanted for murder in Sidney, who provided them with knuckledusters, cloth face coverings, sim cards, and 80,000 baht, (US$2,457) to accompany him 'to get money back from a debtor.' 
Amad 'Jay' Malkoun was also allowed to leave later after he told police he had been staying at Schneider's house but had slept through it all.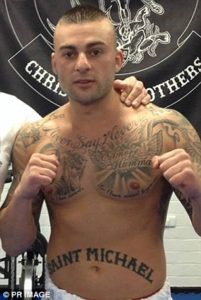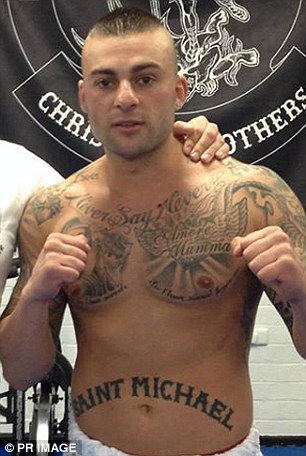 Having allowed three people to get away and not even later seek their extradition, the end result was that Bagnato (left) was sentenced to death after scarcely bothering to put up a plausible defence to what a Sydney inquest ruled was homicide.
But then quite quickly, by Thai justice timetables,  he was acquitted on appeal and instead given three years on assault charges.
In his defence  he had proffered  a 'dancer' at Pattaya's infamous Marine Disco, who said she spent the night with him, as his alibi witness.
Tyler Gerard was given a reduced sentence of two years for cooperating with the police investigation and then re-arrested for drugs trafficking and now sentenced to death.
ABC's Liam Cochrane described what happened when he attended the final day of the hearings.  This is not unusual in hearings where foreigners are involved. Court interpreters often have little more than limited English.
"(The hearing) was marred by language problems, with important testimony not properly translated into Thai for the judges. At times, the courtroom degenerated into farce."(Fuller report).
In that trial Luke Cook was also convicted for aiding and abetting a wanted criminal, by driving Bagnato to the Cambodian border.  Cook had pleaded guilty but told the court that he did not know Schneider or anything about the kidnap and his death. He knew both Bagnato, and also knew Tyler Gerard who had texted him to come and see him urgently.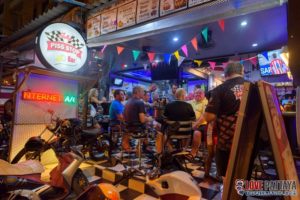 It was then that Bagnato, Cook said, pulled out a gun and told him to drive to Cambodia. 'If you don't I'll shoot you. I don't want to, but I will."
This is consistent with what Luke Cook had told friends before his arrest and as it happened Luke Cook got just three months for aiding and abetting Bagnato's escape.
Nevertheless Cook's name was up there in black and white with the statement that he had aided the escape of 'murderer' Antonio Bagnato and his involvement in the 'murder case' was brought to the fore in media accounts of his arrest for drugs trafficking a full two years later in December 20 17 when he was described as Schneider's drugs importer.
In the Thai justice system it seemed that the people previously long associated with crime had got off very lightly, while those that were not faced death
Shoebridge seemed to have much stronger connections to Schneider's murder.
Not only did he and Bagnato meet regularly at the gym. But Shoebridge was widely regarded as Bagnato's principal aide  or gofer. He gave his Thai girlfriend Siriphat Saimart 100,000 baht to rent the house (345/3 Pratamnak Soi 6 picture below) for Bagnato, which was used during the fatal beating of Schneider.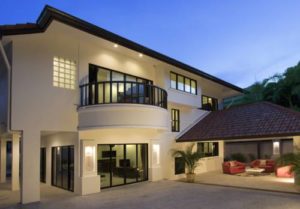 And the vehicles a Toyota Ute and an Isuzu D Max, which were used for the kidnapping, the disposal of Schneider's body in a shallow grave, and for Bagnato's personal use were also, according to Detective Sgt Paul Roe of the News South Wales Police Gangs Squad, rented for Bagnato by Siriphat Saimart.
Siriphat Saimart also told the police that Shoebridge had told her to delete all text messages relating to the transactions.
DS Roe went to Thailand to gather information on Schneider's death and found from witnesses that Bagnato and Shoebridge were 'extremely close' or as one witness put it –'They were always together'.
(See relevant sections of the NSW inquest at the end of this article)

But in all media reports up until that time, and even this year, (because items stated in the news can be endlessly repeated as fact)  it was stated that it was Bagnato's wife, who was actually in Koh Samui at the time, who rented the cars and murder house.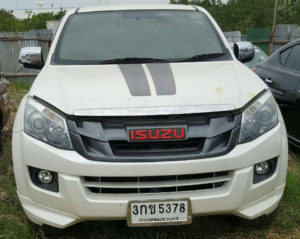 There was also one fact that Detective Sergeant Roe did not pick up on. One of the cars was not rented. The Isuzu D Max (5378) had been bought in cash in Saimart's name for Bagnato – and a year later Shoebridge went with Saimart to the police pound to pick it up. Thus he got the one thing probably worth seizing, without the automatic rifle, automatic pistol with laser sight and stun guns which had been found inside.
John Mackey, who asked for his location not to be revealed said:
"After Boris told me what he said he had heard and I passed it on. I do not wish to comment on that. But I had my own concerns about Thierry Perenon and Douglas Shoebridge. The team was busting a lot of steroid dealers in Pattaya, which is the world's hub for illegal steroids.

That was being done using Thierry and his group informing on others.
Perenon's group was dealing on a massive scale, manufacturing its own stuff and selling worldwide.  It's websites were among the world's most popular. Doug Shoebridge operated on a much smaller scale and to his own markets. These raids were so frequent that we had helped create almost a massive monopoly.
(above Thierry Perenon, complete with medals. 'I have learned all Thai people are like monkeys'.
Thierry was raising his profile on the net boasting about his trading in steroids on while also announcing that he worked for the Thai Police Crime Suppression Division and the Department of Special Investigation and Immigration Police. 

I did not think the unit should have been compromised like this. It was clear that Thierry wanted protection for his own products from police.

I don't know why I got the threat from the 'Hells Angels'. I had had no connection with them and no knowledge of them to pass on to anyone.  But I guess if Perenon and Shoebridge knew I had informed on them anything was possible. I removed my family to safety."
Perenon who carried out surveillance on Cook's house and bar certainly did know that John Mackey had complained about his steroid operation. He operated with two senior colleagues and Mackey got this email from one of them known as Mister T. and Tony.
 (The) Colonel lost 500,000 investigating the big drug case, Why are you putting my business in the middle of all this ? 

I do not understand why you tell the DEA to shut down my sites ?

The Colonel told Thierry everything that you tell DEA about us. Thierry seen them at the safe house* after he put a GPS on a Thai lady car. 

He seen the photos of some of our parcels. We have always had a good relationship both, we have always had respect and dialogue with each other. You need to know that after we opened Myogen** our work, it´s very hard especially since we lose many of our parcels to USA for a long time.
I did not understand why you are telling on me. I gave you many steroid cases to arrest. I told you about the pharmacies. Now you want the DEA or Interpol to arrest us?

I don´t want to be in conflict with you.  We have everything to lose together.  Maybe your forget my uncle at Interpol or my very good friends P'Ae and P'Sak. Do not make me do something to you. You will regret it.

I am open to chat with you and recreate a relationship of trust together.

 

Mister T.

* Most Thai police stations have 'safe houses' for conducting interviews etc in privacy.
** Myogen is the latest steroid offering
Thierry Perenon had indeed raised his internet profile considerably, as Mackey claimed.  He had published many pictures of himself in police uniform, even with medal ribbons and had promoted himself as a crusader for Thailand against the negative reporting by foreign journalists.
In his attacks on journalists he selected in particular the popular pro-democracy CSI LA Facebook run by a Thai living in the U.S; former Reuters Bureau chief and author of 'Kingdom in Crisis' Andrew MacGregor Marshall, who had criticised the Thai Royal Family, and Su Buchanan, who edited the 'Samui Times' and had branded the Koh Tao, in the Samui archipelago as 'Death Island' after all the explained deaths and rapes there.
When a young British woman claimed from London that she had been raped on the island of Koh Tao having been to a 'Rape Crisis Centre' and made a statement to the Metropolitan Police, Perenon went into battle on the side of the police, who ruled that there was no substance to the allegations. His style was rather irregular
"She is poor backpack tourist that drink and want sex from Thai man and she is afraid her boyfriend know she is worst (sic) than a prostitute, just a few drinks and her legs are open," he wrote
He attacked me for writing on the same issue and about a Briton called Paul Hayward, a major player in Thailand's tourism sex industry who earned his money in boiler room fraud, telling me that Paul had many friends and 'he knows where your kids go to school'. In the main the subjects of his attacks were living abroad.
But his attack on Khao Sod English, news in English online by the owners of the second biggest selling newspaper in Thailand came as a surprise to many even though the editor is not Thai.
'THE RUSSIAN RAID'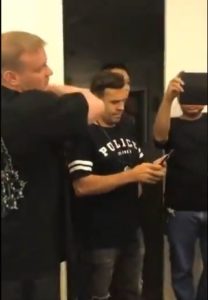 Perenon had demanded Khao Sod English remove a report which carried a video of himself and Shoebridge (left) raiding a 'sex clinic' or alleged Russian secret society in Pattaya 'soliciting for prostitution'.   
This was a politically inspired raid but the official line was that a victim had complained of being cheated.  The unofficial line was that the raid was conducted at the request of the Russian Embassy.
They had arrested the Russian model, Anastasia Vashukevich, known on Instagram as Nastya Rybka,  and her boyfriend and agent Alexander Kirillov (Alex Lesley). Both had attracted worldwide attention for claiming to have recordings of Russian oligarch Oleg Deripaska, a crony of President Vladimir Putin, discussing interference in the U.S. election. She had been a guest on Deripaska's yacht.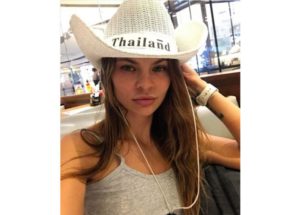 Anastasia (right) and and her boyfriend Alexander Kirillov were charged with soliciting and being members of a secret society, while the others were found not guilty of working without permits and freed.
Anastasia and Kirillov have been languishing in jail ever since. They appealed to the U.S. authorities and offered to testify in the U.S. as to their knowledge of President Trump's Russian links.  Not surprisingly, the U.S. Embassy did not want to entertain that idea.
Having been shunned by the two super powers their trial is scheduled for next month – almost a year after their arrest without the alleged prostitutes!
(Pattaya is billed as the world's tourism sex capital and police normally only arrest prostitutes when they are short of cash. The fines are paid and they go on their way.)
This is what Thierry Perenon wrote to Todd Ruiz, Editor of the 'Khao Sod'.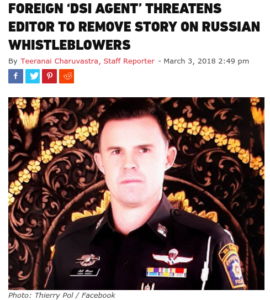 "I am special agent of DSI. If you know what is best for you you will delete this case from your website. You would not want DSI after you.  Take care of your family remove the story.

"Family should be very important for you more than a story. Remember where you are.. remember the government you are under. 12 days detained… 12 more…."
The DSI even issued a warning in broken English saying Perenon would be prosecuted to the full extent of the law if he was reported again for impersonating a DSI officer.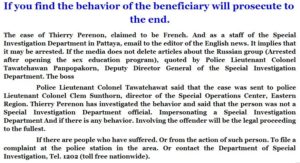 EXTORTION
However, in Thailand statements can often be just that and Perenon's activities continued and were picked up by Nation TV and its sister paper 'Khom Chat Leuk'.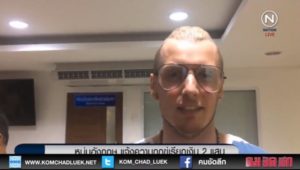 When a British tourist Daniel McKee made a police report about being cheated by a Bangkok airport taxi driver called Thong, Perenon got hold of the file.
And soon an email was on the way to the Brit from Perenon, who said the taxi driver was a personal friend. This time in defence of Thailand Perenon would be demanding a fee.
"Thong is a good friend of mine and your lies are making him so much problems. You think you can do bad like this to my friend? I work for DSI and CSD."
He told Daniel McKee that he had arrested Anastasia and Alexander and they would go to the monkey house for ten years implying the same could happen to him.
"I have a real gold CSD badge. I am not like the volunteer but a real police….You break many Thai law like you working without work permit. So you will take good care of Thong and give him compensation….200,000  (US$6,120) baht for your fake news."

He gave McKee the choice to pay either by Bitcoin or to a bank account, the details of which he provided. (see Khom Chat Leuk)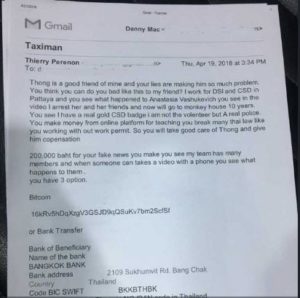 .But still nothing happened to Thierry Perenon and he was not doing Thai police any favours as a public relations guru. Could they be receiving favours elsewhere? As Mister T stated, it appears, his worldwide steroid distribution and sales operation was providing information to police on who else was illegal selling steroids in the resort of Pattaya.
And they were making millions. When he started attacking CSI LA on Facebook Messenger Thierry Perenon was goaded into making this reply. He did not seem such a fan of Thailand as he made out,.

 Perenon laid it out by himself. His Top Steroids Online is one of the busiest websites in the world selling steroids illegally to anyone who has the cash to buy.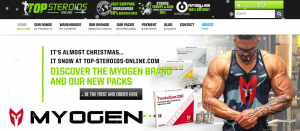 His Lifetech labs peptides, which he claims are the most popular in Thailand, where of course it is illegal to sell without prescription, has a website which claims to have a lab in the Hong Kong Science Park.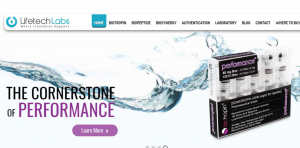 It does not have a lab in the Hong Kong Science Park. These websites are, coincidentally, very similar to sites set up by boiler room scammers like Paul Hayward in Bangkok, no real addresses, no real names, apart from the products. The only difference at the end of the day is that the customers do actually get products – although in some cases they can prove lethal.
Other sites included: super-steroid.com/super-steroide.com, lifetech-store.com, steroidforce.com, fr.body-building.ws, getroids.net, testo-steroids.com, winstrol-steroids.com, lifetech-blog.com.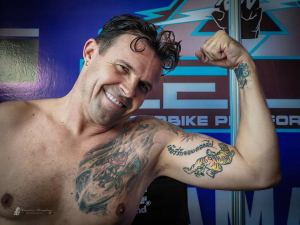 No packages are labelled with the real contents. These below are a couple of packages received from the Perenon's organisation recently.
They arrived as 'extract of grapefruit seeds (right)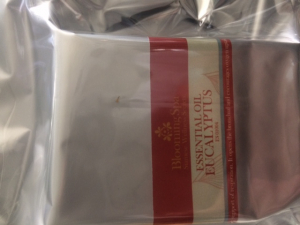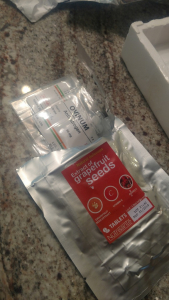 and essential oil of eucalyptus.
Lethal? There are numerous warnings on the net from the U.K., and the rest of Europe and Australia advising that buying steroids online can be fatal and numerous reports of deaths attributed to online purchases of steroids.
Take this case earlier this year of 18-year-old sportsman Luke O'Brien May, from County Limerick in Ireland. Cork City Coroner Philip Comyn said "He was a fine young man with all the world ahead of him."
Luke's death was attributed to ' a swellin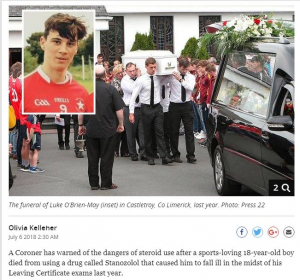 g of the brain because of his usage of the steroid Stanozolol.'
Specifically Consultant physician, Dr Robert Plant, said the teenager's brain swelled to such an extent that it triggered a rapid and sudden decline which caused brain death.
Coroner Philip Comyn warned:
"Most of these steroids are obtained illegally. You do not know what you are getting. People need to be told of this. I hope people will become aware of the dangers of [these drugs]"
Stanozolol is sold on Perenon's 'Top Steroid Online' website.
And it is his Top Steroids Online site which had the US$2 million alone which he demonstrated in this Power Point presentation (left. and below.)
They are mining money.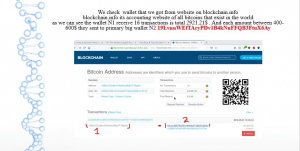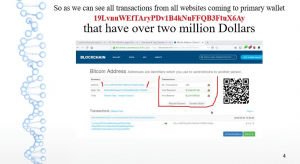 The Body-Whole sale website is also one of his major marketing sites.

 I was able to talk to one of the other Pattaya dealers, who for obvious reasons, preferred to be known as 'Jack Gear' who knew Perenon well. He said:
ILLEGAL DRUGS FROM SINGAPORE
'Thierry Perenon and partners are now the biggest operators here by far and operate worldwide on a massive scale, possibly the biggest, certainly in the top three in the world.

He has a bonded warehouse in Singapore because that is seen as a 'safe' country by foreign Customs officers. All the websites are slick but you will not find a genuine address on any of them.

"His local brand is Life-Tech Labs but he also sells through the Body-Wholesale site and his Top-Ten-Steroids. Just look for the names LA Pharma, Myogen, Eminence, and Magnus and you'll find he's there.

"A lot of the stuff comes from China but the organisation makes the products and packages it and ships it to Singapore and then it is shipped out on order from the bonded warehouse.

"The packages may say something like 'extract of grapefruit seeds' but if the customer gets that he is going to be very disappointed.

"Singapore is seen as a good base from which to send the gear, because it's now one of the least corrupt countries and has rigid drugs laws – so packages coming from there would not be seen as suspicious and thus less likely to be opened by customs operators.

"They have production in India too and an operation based in Budapest (Hungary) selling Magnus brand to Europe. Apart from Budapest and Singapore there are four other shipment points.

"They are they biggest I know and have squeezed out a lot of people here. But Shoebridge is much smaller, a lone operator. He gets stuff from Perenon and re-sells to his own market."
 THE TARGETS
Not all of the arrests by the Shoebridge-Perenon duet made the news. It often happens in Thailand that private deals are done between police and those arrested and instead of jail police impose a fine. This can be in the millions and will not be recorded in any book.
However a couple of operations were identified.  Together they took down this Pattaya drug store which was reported selling steroids.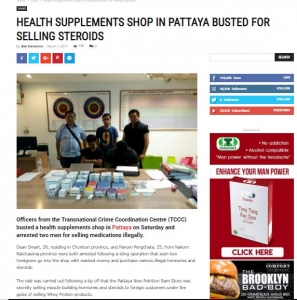 The owner, Dean Smart, had a Thai mother and English father.  In fact his father was very well known in Cambridgeshire. The late Reg Smart was a director of Cambridge United F.C. for 30 years, twelve of them as chairman.
They also took down these women selling sex enhancement drugs, which required a prescription. According to Boris, Shoebridge targeted this women and her sister, because they had sold him some duff Viagra.
According to  the Pattaya One online news site:

"As well as the sex pills, police also managed to confiscate 500,000 baht  (US$15,000) in cash, which they are confident was money made from selling the illegal drugs.

"Although police are happy with the arrests, they still believe there are more gang members involved and will be carrying on the investigation in an attempt to track them down and bring them to justice."
Perenon in this case even got out his badge and announced: "I am police and placing you under arrest." Police Volunteers have no powers of arrest in Thailand.
In these cases it is not disputed that the people were breaking the law. The practice of buying prescription drugs over the counter in Thailand is common.
58-year old Briton Neil Pattinson Hartley, 58, was nabbed by the team when it was operating as a CSD unit. He was marketing steroids and sexual enhancement drugs online and could not afford to pay his fine. His partner was able to flee back to the U.K.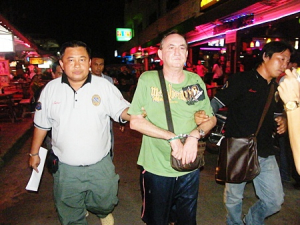 Pattinson went to jail for three years and joined the litany of foreigners writing about 'My Prison Hell in Thailand' in this case recalling his ordeal to his local newspaper. the Lancashire Evening Post.
When he came out aged 71 to go and live with his frail and ageing mum in a caravan. The Lancashire Evening post reported:
"His friend Peter Rowley, who picked him up from the airport after Thai authorities set him back to Britain on his release said:
"People need to be told about the corruption over there, it is unbelievable."
There appears little chance of Thierry Perenon being banged up but he has been let go from the Transnational Crime Co-ordination Centre.  When I emailed the allegations to him for a reply he emailed this message back.
"Tu baises ta mère journaliste britannique".  
 Douglas Shoebridge, and Craig Smith did not respond.
APPENDIX I
Thierry Perenon and his colleagues in the world-wide distribution of steroids seem to easily get around regulations governing the registration of websites, so they believe they cannot be caught.  They have to register with the Internet Corporation for Assigned Names and Numbers (ICANN) or one of its associated registrars and have been known to move their domains three times in as many months.
The current Top-Steroids-Online website is registered in the name of an unlikely sounding Dane by the name of Sam Williams, allegedly from Hjorring/Hjoerring in Denmark. (I know it well.  My brother lived there for a while) Sam is registered as living in Turkey.  But all the documents 'Sam' presented were created using Adobe Photoshop on an Apple Mac.
APPENDIX II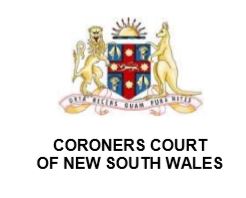 This is the information relating to Shoebridge given at the inquest* into Schneider's death held by the New South Wales Coroner last December. Detective Sgt. Roe who travelled to Thailand and was the sole witness stated:
"They (the Thai Police) identified the location as being rented by a Thai national Siriphat Saimart who had a partner of UK nationality Douglas Shoebridge."
(Shoebridge had both a UK and Australian passport and had used both to enter Thailand but he had little connection with England. His father was English and he was entitled to a second passport. He was probably using the British passport during the visit of Australian police. Were they in denial?)
"A grey black Yahama Nuovo motorcycle was identified outside the premises. This motorcycle was rented out to tourists my Mai Thai Ltd. Partnership.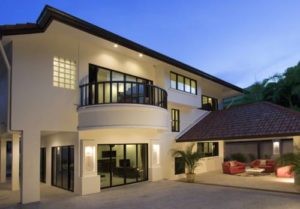 345/5 Soi Pratamnak
"On 12 November Saimat went to see a Miss Nam, whom she paid 100 000 baht to rent the aforementioned property from 12 November 2015 to 11 December 2015. Saimat's national identification card was used as evidence of ID during the transaction. She states she gave the key to the residence to Shoebridge.
"On 28 November Bagnato contacted her to ask if she could rent a car for him. She met with Bagnato, who provided her with the rental money but did not bring his passport. She states that she therefore travelled to the PR Car Rent without Bagnato, put down the rental money, and waited for Bagnato to attend with his passport. When he did not attend she rented the car under her name. She took the car back to her residence at Lumpini Condominium, Jomtien.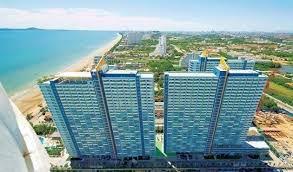 Lumpini Condo
"At 4:30 p.m. that same day, Bagnato travelled to the location and collected the car and car keys from Saimat.
Saimat says that she did not meet with Bagnato again. Saimat also informed police that Bagnato rented a second vehicle directly from her, a white D-Max ISUZU truck, registration  GorKhor 5378 Bangkok.
Saimat says the agreement was for 28 000 baht to be paid monthly for the rental, but ultimately she did not receive any money from Bagnato for his use of the vehicle.
The ISUZU was located by police outside Area 3 Chonburi Taxation Office, Nong Prue Sub-district, Banglamung Municipality, Chonburi Province.
Located inside the vehicle were personal possessions of Bagnato as well as a military style semi-automatic rifle, a semi-automatic pistol with laser sight, two Tasers, and ammunition including six magazines containing 5.56 mm rounds.
A Forensic examination of Toyota utility Khor Lor 8755 revealed trace evidence of Mr Schneider's blood within the vehicle. Trace evidence of grass and other debris was located on the vehicle, linking it to the roadside grave area where Schneider was discovered. Cast impressions of tyre marks at the roadside grave scene were matched to the tyres on the utility.