NO MORE MAFIA WARS IN BANGKOK – NOW IT'S A GOVERNMENT DEPARTMENT.
PLUS THE PHONY PAUL HAYWARDS OF BANGKOK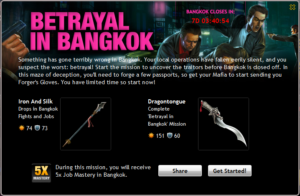 While Google grants a £500,000 sponsorship to the newly formed British Bureau of Investigative Journalism it is also depriving readers in Britain from reading about massive frauds committed by a British citizen under and with the assistance of leading generals of Thailand's current military government.
In Thailand journalists have been gagged by the Computer Crime Act for writing stories which could bring 'disorder' to Thai society. In short they are charging journalists for being critical of the military government.
They have military courts but this seems hardly necessary as the judiciary have so far complied completely with the spirit of the military laws.
Thai journalists have been summonsed for re-education. The Foreign Correspondents Club of Thailand has been under continual harassment and been forced several times to cancel discussion evenings which have been deemed not to be conducive to peace and harmony. And our man from the BBC is being sued under the Computer Crimes Act.
Now there has been a noticeable exodus of westerners from the gravy mix of foreigners in Thailand , and what is left behind is rather a stodgy and lumpy liquid made so by higher ratio of foreign criminals whose lifestyle remains relatively undisturbed.
Near the top of the sludge in this group are Bangkok's boiler room kings, the principal now being Paul Hayward, since the reported deaths of American's Glen Bullard, Mark Hutcherson, and Paul Richard Bell.
Hayward of course first came to light after being reported attempting to take a stash of cash out of Thailand, when foreign police forces, in this case the Australian Federal Police and the FBI, requested raids on the Brinton Group, International Asset Management, and Foreign Currency International, amongt others in early 2001. Hayward then gifted the cash to the Thai government.
The operation, which was trumpeted as a triumph of international co-operation, was of course an entire waste of time, except for the Thai police who collected heavily, but merely charged the bosses, who were running share fraud scams, with operating financial institutions without the appropriate licences.
After this Paul Hayward came to the fore, successfully running 'boiler rooms' out of Bangkok, Manila, Kuala Lumpur, and Jakarta and, for a very brief period, Phnom Penh. (Surprisingly enough this operation run by his lieutenant Steve Graham was unable to pay off the authorities enough to continue).
Hayward, who as a young lad in Birmingham, ran a few companies into liquidation, has since re-invented himself as a nightclub and restaurant king, telling everyone this is how he made his money – not the true version that he started off as an 'opener' and then graduated to be a 'loader' and ending up by the capo 'di cappo di tutti capi'.  Being in the entertainment industry is a much better explanation than saying ' I took money off silly pensioners'.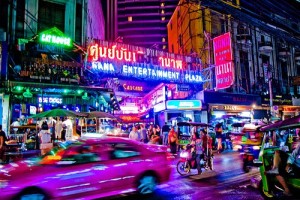 Some years ago he took over the master lease of the Nana Entertainment Plaza – Thailand's notorious complex of sex bars, and made acquisitions in Soi Cowboy, a similar area, as well as putting his ill earned cash into nightclubs. Most are advertised on a website called 'Stickboy Bangkok' which he virtually owns.
You won't find Hayward's name on any directorships even though he claims to be the biggest night club boss in SE Asia – and of course he could not do this, or continue as a boiler room operator without the help of the military or the police.
He entertained Generals at The Vault, a lavish nightclub on which little expense was spared, while military men watched over their cars outside. ( Unfortunately it closed after only a year) and  he employs a vast range of off duty police and army as 'security' at his establishments.
To continue to whitewash his past Hayward has now got Google to block stories about him on the website of The Consortium of Defrauded Victims (CDV).
This is fraudrecoveryblog.wordpress.com and is run by an academic in Sweden and its members are victims who have lost millions to Bangkok boiler rooms – and Hayward in particular.
There is of course still plenty of stuff on the web about Paul Hayward and his boiler room operations, but best not to use Google in the UK. If you're British log into Google in any other country and type his name in conjunction with boiler room and you'll find what you want.


The thing about Google is that it promises transparency and is supposed to publish its judgments on Lumen. But in the cases of the CDV and myself it has not – and nor have the CDV or myself had court action taken against us.
Indeed the CDV would love to testify against Paul Hayward in a British court.
So on what basis were the blockings made? My guess is that there have been a couple of cases where Google's immunity from prosecution has been challenged by the British courts – and that Google has to take responsibility for what is published on Google searches in the UK.  But of course Google has not said.
It comes as no surprise that Hayward and his deputy Mickey Doherty are featured in the Panama Papers. But whether Hayward and his henchman will ever pay for their crimes is very much an unknown.
Perhaps the Generals will cotton on to the fact that they are getting a mere pittance in relation to Hayward's earnings.
Whoever coined the phrase 'Crime Does Not Pay' must of course have been a PR man for law enforcement. For, as we all know, financial crime does pay and it pays in millions and the law barely chips away at the tip of the iceberg.
Hayward a long time ago declared his victory confidently stating that he could never be connected to any of the cash in all his schemes, claiming he had neither credit card or bank account – in his name.
The night entertainment business in Bangkok and the country's sex trade should be a sure fire investment. But the country is seeing a shift in tourism away from the west and towards China. Thailand has I am afraid has its best years for tourism. Tourists now are seeing a country – a shadow of its former self.
But the military government cannot take the country down the kleptocracy road forever , nor can the murders and cover-ups just continue incessantly.SO, perhaps the Bureau of Investigative Journalism would like to have a go.
Tomorrow I reach my official retirement age. I have thoroughly enjoyed tilting at windmills. For those who come after me however; oh god it's going to be messier then ever.
But wait, this is not a resignation.
How Hayward Does Damage Limitation
If you search Paul Hayward and boiler rooms alarm bells will ring immediately. If you search Paul Hayward and Bangkok and Thailand you have to wade through a number of sites to get to the real man – and a number of Paul Hayward's who of course do not exist but have been created to throw people off his scent These guys have have been the subject of heavy search engine optimisation treatment but the real men behind them are just pussycats.
Take this guy for instance. He runs a number of Paul Hayward sites which are all gibberish and stacked with crap. This guy calls himself Paul Hayward. But do a Google images search on the picture and he turns out to be a science teacher called Adam Elliott for the Hoopeston Area High School in Illinois.  On the internet he's all over the place (search Paul Hayward Bangkok under Google images too).
Then there is this guy. He's all over the net as a person being in hotel management in Bangkok and also blogging crap – but this picture of Paul Hayward has actually been stolen from the website of Seton Hall University, New Jersey, where he is  Daniel Ladik Ph.D , Professor of Marketing.
Google on and you find this Paul Hayward who is apparently in hotel management in Bangkok, or maybe not. This is actually a picture of Gary Hahs who is a partner and director of operations at HVL interiors of Sante Fe, New Mexico, who is naturally enough an interior designer.
He should not be confused Paul Hayward of PaulHaywarddesignbangkok.com who claims to be one of Thailand's 'top interior designers',  of whom I have never heard and of whom I guess I won't hear anything because his 'About' page is empty and like the others does not list his contacts.
These guys have all been blogging away furiously for the last few months, well cut and pasting from other sites – so its nice to know we have got the real Paul Hayward on the hop.
My apologies to the above mentioned who clearly are now Hayward – Perhaps you should complain to Google. I can see these pictures in the UK may I recommend a lawyer.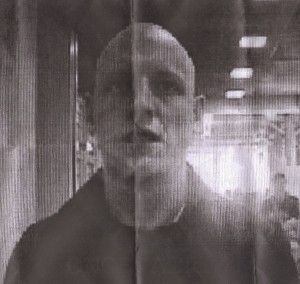 This and the picture way above is the real Paul Hayward. It was a Thai police handout before he became one of them so to speak.
Sorry about the quality. It was taken on one of the immigration cameras at Suvarnabhumi airport.