An Australian caterer sentenced to death in Thailand for drugs trafficking was framed by fellow countrymen working as police volunteers on the investigation team, it is claimed today.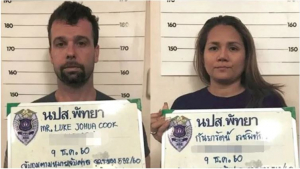 Luke Cook, 37, who was sentenced to death in Rayong, Thailand in November along with his Thai wife Kanyarat Wechatipak, nicknamed 'Kookai' and a 23-year-old Californian called Tyler Gerard, would never have been found guilty, if the world knew what went on, said a member of the police volunteer team, who said he was deported after he complained.
'Not only would nobody would listen but I was a liabilty'.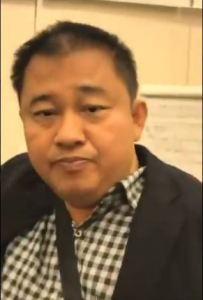 Boris Klimov, 43, tracked down to a suburb of Tel Aviv, Israel, said he was not surprised that he was contacted:
"It was unforgivable how they did it knowing that the penalty in Thailand was death. What did they do it for? Under US$5000."
Klimov, a Russian national, implicated three foreign police volunteers, two of them based with him in the Thai resort of Pattaya and members of a unit called the Transnational Crime Co-ordination Centre as being involved. The third was brought in from 'up country'. The team is run by Police Lt. Colonel Dullayapat Detpornchayasin, Deputy Superintendent at the Thai Special Branch Bureau's General Staff Division.
He named them as Australians Douglas Shoebridge and Craig Smith and Frenchman Thierry Perenon. He said they tried to rope in a third Australian called volunteer called Joel McGarry, a qualified mariner, from his home north east Thailand to make a statement of corroboration implicating Cook, but he fled never to return and subsequently made abusive calls to members of the team.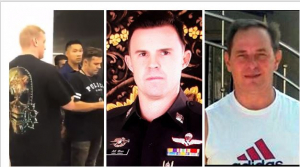 Craig Smith became the substitute for McGarry, said Mr. Klimov.
"I don't know what he said but he was to repeat what Gary told him Luke said, so I do not think it was real evidence. He can't have known much. He has been living on the Laos border for four years."
Klimov said that Shoebridge had openly told him why he had fitted up Luke Cook a FIFO (Fly in Fly Out) caterer, who owned a bar 'Jolly's Piss Stop' and a boat company 'Global Marine Solutions' in the Thai resort and he was also present when McGarry was given what to say in court.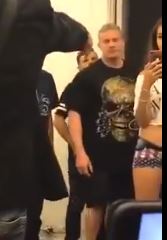 "He did it because Luke Cook's wife had cheated him out of 150,000 baht (US$4,570) which he had given her to get a licence for him to run a pharmacy. She kept the money, he said, saying she had sent it to the Food and Drug Administration, but they had refused him a licence as he was not qualified. He just did not believe it and he told me: 'They deserve everything they get. They had it coming to them.'"
"I was in a state of disbelief. But again I was present in Bangkok when we were called to see the Lt. Colonel and provided with rooms by police in Wattana Mansion, near a quite famous massage joint the Nateree.
"I was in the room with Shoebridge and Joel McGarry when Shoebridge was taking McGarry through his lines. McGarry was to go to court and say that Luke had called him up and offered him 500,000 Thai baht to skipper a boat to pick up some drugs.
"He had to go over and over it again because Joel was a bit old. He even had to show Joel a picture of Luke Cook because either he did not know him at all or could not remember him! My memory was that Joel had never known Luke Cook."
Shoebridge, said Boris, wanted a pharmacy licence to cover his onshore activity which was illegally selling steroids to his own local market and Australia.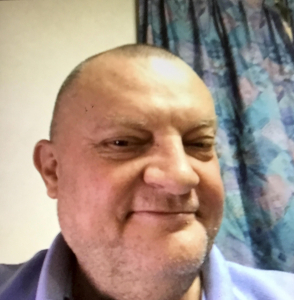 "I hear he was asked in court he dealt in steroids. But he denied it. The whole gym community in Pattaya knows it.He even complained to me that he had been fired from a vessel offshore because he was reported by a crewman for selling steroids on board – and he was very angry."
(Total Marine (Australia) has not confirmed this report).
Shoebridge worked on the police team as a duet with Frenchman Thierry Perenon, who operated one of the world's biggest steroid smuggling operations and Shoebridge wanted to earn the same money., said Boris. As 'policemen' they raided their rival steroid dealers in Pattaya.
Perenon had already had his 15 minutes of fame in Thailand. He had posed as a 'real Thai policeman' to try and extort a Brit who had complained to police about being overcharged by an airport taxi. Perenon wanted 200,000 Thai baht (US$6,143) on pain of suggested jail and deportation for insulting his taxi driver friend. What he did not realise was that his victim Danny Lee McKee spoke fluent Thai and was street-wise. No charges were placed against Perenon. But the story went viral.
In the Luke Cook investigation Perenon's role was to place a GPS on Kookai's car and also watch Cook's bar and restaurant.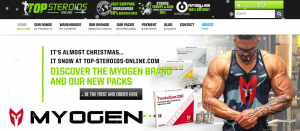 Thierry Perenon and two French colleagues run the websites Top-Steroids-Online and Lifetech labs among several others. They hide the real identity of the website owner by presenting false photo-shopped documents to ICANN. Top Steroids Online boasts six worldwide warehouses. It is a serious offence to traffic in steroids from Thailand, but possession can be dealt with by a fine. Many deaths have been reported from the use of steroids bought online.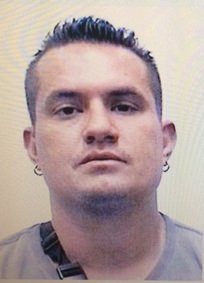 Luke Cook seemed an ideal candidate to take the rap for the 50.4 kilograms of methamphetamine which was washed up on a beach in Rayong, Thailand in July 2015, said Boris.
Six months afterwards former Sydney Hell's Angels Chief Wayne Schneider was murdered in Pattaya after being kidnapped by Antonio Bagnato, a former associate, with a gang (which included locally recruited American Tyler Gerard) and beaten to death. Afterwards Cook gave Bagnato a ride to the Cambodian border.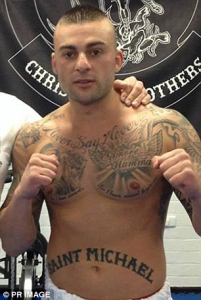 Bagnato was also wanted in Sydney for murder connected to his 'St Michael's Fight Club'.
In his defence Luke had claimed:
"He had a gun pointed at me. He said 'If you don't do it, I'll shoot you. I don't want to, but I will.' "
At the time he said he knew nothing about Schneider's' death or who Schneider was. He had tried to make sure his car was visible to CCTV cameras whenever he saw them.
Also at the scene of the kidnap was Amad 'Jay' Malkoun former Australian Comancheros chief who was let go by Thai police after he said he was staying with Schneider but slept through it all.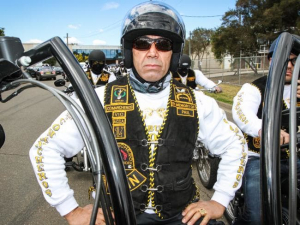 On a charge of aiding and abetting a wanted criminal Cook got only three months.
However, the investigation into Luke Cook did not begin until 2017 a full two years later. Shoebridge knew the central figures but had kept quiet about it, he said, because he had received threats from what he believed was an associate of Bagnato, not to talk about his 'St Michael's Fight Club' and the murder of Schneider.
Luke Cook knew Bagnato because he had taken a room at his pub and Tyler Gerard visited him there.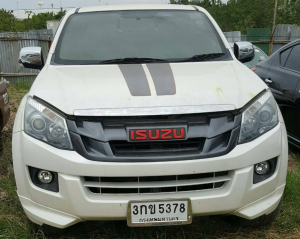 But Shoebridge knew Bagnato better – a lot better.  At an inquest in Sydney last December Detective Sergeant Paul Roe of the New South Wales Gangs Squad said he had been told that they were 'extremely close' and 'always together.'
Further, he said, Shoebridge, through his Thai wife, Siriphat Saimart, had provided the vehicles used to kidnap Schneider, dispose of his body and for Bagnato's personal use. He had also provided the cash for his wife to rent the house for Bagnato where Schneider was beaten with knuckle-dusters and an extendable baton.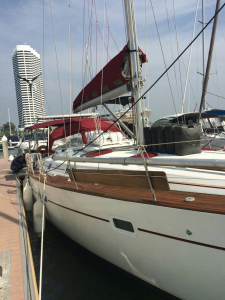 When he was arrested also last December Thai Police said that Cook had been paid US$10 million by Schneider to bring 500 kilos of methamphetamine into Thailand on one of his boats the 'Jomandy'.
However, claimed Thai police, he dumped his cargo when he was approached by a Thai Patrol vessel and the 50.4 kilos which was part of the massive hail was washed up on a beach in Rayong, the neighbouring province south of Pattaya.
Klimov said that in evidence Shoebridge was to say that Cook asked him to join him in a hunt for gold which had been dumped off Rayong. Both spent about US$10,000 on underwater cameras and went out, but the search was fruitless. It was only then that Cook told him he was really looking for the drugs he had dumped, at which point in shock Shoebridge said he wanted nothing to do with it.
Said Boris: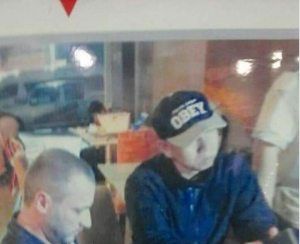 "Take it from me, Shoebridge made it all up. We used to be quite close. After I complained I got a call from Thierry asking for a meeting in Starbucks in Pattaya. I went along but waiting for me were Thai police immigration officers. It was a trap. They had been told that I was Russian mafia and wanted to see the contents of my mobile phone and slapped me when I refused.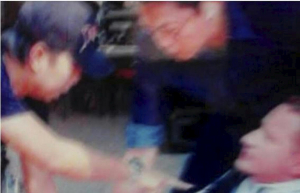 "Later Thierry said he could get me out for 300,000 but, 150,000 up-front. I had overstayed my visa. That's not a serious offence. Normally you just pay a fine when you leave the country. But if you are caught in country it is. The Colonel surprisingly could not help. I gave Thierry my bank card and the keys to my condo, That's the last I saw of him. I lost everything."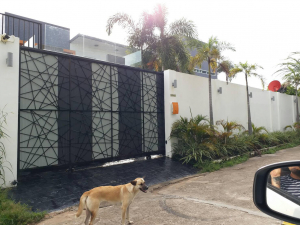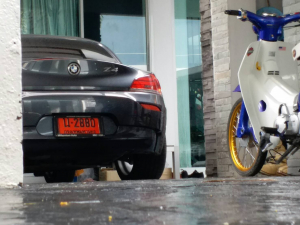 In any event Thai police did not find any riches which they could seize when they executed search warrants on Luke Cook's house. He did not have nine houses, as was claimed. His own house was mortgaged to money-lenders, His wife's car was leased. And there was no evidence of drugs.
No evidence was presented of any Thai naval vessel being in the area and a search of 'Jomandy' which Luke had sold revealed no trace of methamphetamine. Nor was any proof offered from the marina that it had even sailed at the time in question.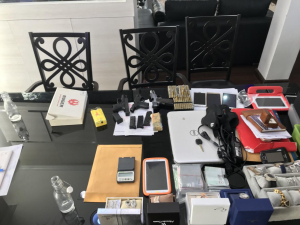 Another police volunteer American John Mackey, who worked for Dullaypat in Bangkok said he quit the team, because it was being compromised by members dealing in millions of dollars' worth of steroids worldwide.
"I can confirm that Boris who was part of the team notified me of his complaints and I felt it my duty to pass them on to my superiors.
"I myself was concerned about Perenon and Shoebridge. My complaint about the steroid trafficking by members of the team was leaked very quickly to Perenon and I received a 'come to our table or else' message from them'. They were seeking Thai police sanction for their own operation while informing on other dealers."
Mackey left Thailand four months ago: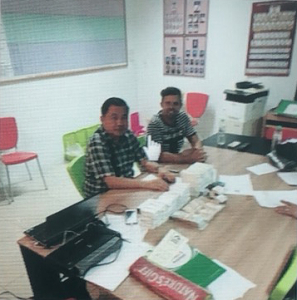 "Right now Thailand is not a country I want to be in. My wife's car was smashed in by Hell's Angels who sent me a threat. I don't know why? I had had nothing to do with them. Maybe they had been asked to? But I moved for the safety of my family.
"Cook's wife 'Kookai' had been accused by several people, mainly Australians, of cheating them. I was told millions were involved. I do not think I should say more without consulting my Embassy as I was the person who notified the DEA of the Cook investigation. I believe Perenon has been let go from the team now."
The Thai Police did not inform Australian Federal Police about the investigation into Luke Cook until after his arrest. The United States DEA were involved and monitored Cook's movements in Australia and offshore, but they pulled out shortly after Cook's arrest.
The Australian Federal Police who could have assisted were not informed until after Cook's arrest.
Neither Douglas Shoebridge or Craig Smith responded. Thierry Perenon replied: ""Tu baises ta mère journaliste britannique".
Luke Cook's father Paul Cook said: "My son was no Hell's Angel. And he would never associate with such a group or group like it and I can only speak to his and my outrage. As there is an appeal in process, I cannot say any more."
Pipat Chantikul, Cook's lawyer said he was appealing on the grounds that there was 'no evidence linking his client with the 50.4 kg of 'Ice'.
INTERESTING LINKS:
For fuller version GO HERE
Shoebridge, Perenon and Dullayapat on Russian video
A DSI raid on Pattaya pharmacies selling steroids
Brit jailed for three years for selling steroids complains of corruption