CRAWLEY TOWN FOOTBALL CLUB ANNOUNCES BUY OUT IMMINENT AS 'WOLF OF BANGKOK' RETIRES TO LICK HIS WOUNDS.
Thursday, February 04, 2016
AS FOOTBALL GATE NUMBERS CRASH THE FLASH BANGKOK MILLIONAIRE, WHO MADE HIS MONEY IN 'WOLF OF WALL STRET' OPERATIONS, HAPPILY RETURNS TO HIS 'BIGGEST SEX ENTERTAINMENT AREA IN THE WORLD'.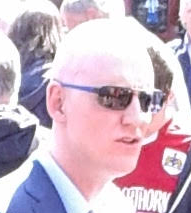 Bangkok boiler room king Paul Hayward, also known as Hilton, is pulling out of his deals with the British Football Club Crawley Town, ending another controversial period for the cash strapped club.
Hayward, who last year came clean and admitted funding the club, together with his Irish colleague Mickey Doherty, after the cash flow was exposed on this site, had previously requested that his 'investments' remain confidential.
In doing so he said that the £5 million he had invested was a gift without any ties. His reasons were selfless he said.
"I wanted to be involved with a club whose supporters had never really tasted success.
"My favourite story growing up was David and Goliath – I liked the idea of a rags-to-riches rise and taking a little club with 600-average gates to the Championship. Just for the fun of it.
"Once we had paid off all Crawley's bills, we were offered shares of the football club but we politely declined.
"Mickey and I saw Crawley Town as an escape from high-profile lives in Asia, where we can't buy a loaf of bread without being recognised as the 'big club guys'. For several years it went well, we met fans, home and away, drank our pints in Redz Bar and were accepted as part of the Crawley Town family."
Hayward was less than honest about his high profile life in Asia. It has been a very low profile but a very but a very high earner – the leader of many boiler-rooms constructed to defraud pensioners and people gullible enough to fall for his 'brokers' offering unbelievably good share offers.
His name is all over scamming operations run in pseudo brokerage names like Smith Fairchild, Jackson Cole, Carver Brooks and Associates, The Stockton Group, the Roth Group, the Danier Group, Leberman and Steine, Montesiore and Lutz,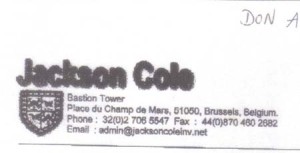 He is unknown to the mainstream media and the only time he had been interviewed was by a columnist called 'Stickboy' who specialized in Thailand's sex bars for tourist, who relies on Hayward for his living and that was mainly a rant about 'false accusations' from an un-named journalist.
Crawley Town Football this week issued the following statement.
"Crawley Town FC can today announce that they are close to completing an agreement with an overseas-based consortium who have agreed to take over the ownership of the club.
Subject to the ratification of legal agreements and Football League approval being granted, the club hopes to be finalise the takeover early next month.


As our supporters are aware, the current board and Paul Hayward, our benefactor, have been looking for fresh investment since 2013 to help take the club further forward.
Discussions with the preferred consortium have been underway since October and the board firmly believe that they have the ability to build on our achievements to date.
In the meantime, the club will be making no further comment until the takeover is completed."
The BBC, which suggests the buyers are European, appears to have omitted references to Hayward made by Chief Executive Michael Dunford in an interview carried on the Football Section of its website.
But the club website carries the full sound interview on its website. In it Dunford says that Crawley Town FC: "has been very very lucky, amazingly lucky to have a benefactor like Paul Hayward, to decide to put so much money into the club."
Last night a group of people who claim to be victims of Hayward – to the tunes of millions of dollars –scoffed at Dunford's statement and issued their own. Known as the CDV (Confederation of Defrauded Victims the group stated:
"Crawley Town FC's Mike Dunford now states that the club "has been very very lucky, amazingly lucky to have a benefactor like Paul Hayward, to decide to put so much money into the club.

This is counter-balanced by all CDV members in nine European countries who have been very, very unlucky, extremely unlucky, to have been defrauded of more than 20 million USD through the same Paul Hayward´s boiler-room syndicate over the 2003-2010+ period of time.

Some estimated 1000+ private investors in the UK alone, beyond CDV, also have reasons to share the same bad luck, being targeted by Mr. Hayward's boiler-room scams.

Luck on one side, flip the coin, and the root of unluckiness can be unveiled on the other side.

Paul John Hayward left the UK in early 2000 with liquidated and dissolved UK companies behind. A few years later, having entered into the boiler-room management top segment in Bangkok after stints as junior Telephone Qualifier in the boiler-room, Foreign Currency International (among others), he is estimated to have accrued a private wealth of some US$100-150m.

Now hasn't Mr. Hayward been extremely lucky and isn't Crawley Town FC's/Mike Dunford's perception of luckiness linked to the thousands of people being defrauded over the years? Suffice to say, hadn't Paul Hayward accrued his wealth through boiler-room scams, there wouldn't have been any benefactor named Paul Hayward pouring money into Crawley Town FC."
Chief Executive Michael Dunford said he expected the take-over to be completed in three weeks. It would be a complete take-over he said. All shares would be taken over by the new consortium.
He said no financial details would be announced.
The £5 million question remains. Will Brummie Hayward get any of his gifted cash back?
Or was the man in Bangkok ' who never misses a financial trick and never squanders cash' tearfully kiss CTCF good-bye and go back to cheering on the 'Villa'.
Cash from the club is reported to have been paid through the company 'Eclipse' which is listed as a company running bars and clubs in Bangkok, but on paper owns very little and no longer has a website.
Hayward however is known to control such businesses as the master lease on the Nana Plaza go-go bar area of Bangkok – through FICO – and a management company, Baccara 'knickerless bars' in Bangkok and Pattaya, the Eden Club ( a brothel) various pubs and night entertainment places such as the Australian, the Kiwi, Bangkok Beat, Coyote, and a number of nightclubs in Bangkok including 'Insanity', 'EQ Late night club', Levels, and Sugar.
He says: "I currently co-own and manage the largest [night] life group in south east Asia with branches in Thailand, Hong Kong and Singapore.
"In addition to this we manage and co-own, as landlords, the largest adult entertainment complex in the world.."
In Thailand however at the last check he was not listed as a shareholder and director on any – and boasts he does not have his own bank account or bank cards.
This does not matter so much in this country if you have police and army generals on hand.