HAS BOILER ROOM BOY BEEN KEBABED?
OR HAS A TURK'S DELIGHT WITH A 'SMOKE AND MIRRORS' CLUB SAVED HIM FROM BEING SKEWERED
Bangkok boiler room moguls slunk out of their foray into the British Football League today with the announcement that Crawley Town Football Club had been finally been sold to Turkish steel magnate Ziya Eren.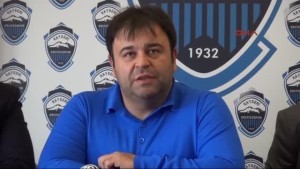 Eren, who is also president of Turkish second tier side Kayseri Erciyesspor, received Football League approval of his buy-out on Tuesday and sealed the deal following a final meeting of the club's board of directors, the Press Association reported.
The Sky Bet League Two club's Chairman Dave Pottinger, together with directors, Michael Dunford, Ian Carter and Matt Turner have all resigned from the board with immediate effect.
The club has not commented on the withdrawal of Paul Hayward and Michael Doherty two Bangkok businessman representing the 'Eclipse Group' who had funded the club since 2011 to the tune of £5 million.
Officially as this was a 'no strings attached' cash injection they would not be entitled to any return of funds.
But the club could not have survived without funds from Hayward and Doherty who claim to run the biggest nightlife business in Thailand – which included the master lease on Bangkok's sex tourism 'Nana Entertainment Plaza'.   The club has had a very chequered history including bankruptcy, and the board has been very secretive about its investors from Bangkok.
Hayward (also known as Paul Hilton) issued a statement last year finally admitting he had been Crawley Town Football Club's major investor. This was not before his involvement had been reported many times on this site –  in football forum's in the UK and in a separate football background investigation.
"My favourite story growing up was David and Goliath – I liked the idea of a rags-to-riches rise and taking a little club with 600-average gates to the Championship. Just for the fun of it.
"Once we had paid off all Crawley's bills, we were offered shares of the football club but we politely declined.
"Mickey and I saw Crawley Town as an escape from high-profile lives in Asia, where we can't buy a loaf of bread without being recognised as the 'big club guys'. For several years it went well, we met fans, home and away, drank our pints in Redz Bar and were accepted as part of the Crawley Town family.
"We weren't interested in the boardroom. I prefer a burger and a pint to a prawn sandwich."
Hayward does not appear to be interested in any board rooms. Although the companies he is known to control have fluid lists of directors and shareholders, his name, when last checked, did not appear on any as either a director or shareholder.
He made his money in boiler rooms many of which have been listed on this site. He was a Goliath who took many Davids – including hundreds of pensioners – to the cleaners.
However he was forced to break his cover as a secret investor to Crawley Town Football Club last September and issued a statement through the club.  His involvement had already been revealed on this site and ahd set a club supporters club forum buzzing and attracted closer investigations of Crawley Town F.C. affairs.
"This has taken Micky Doherty and I almost two decades to build. We started with just a couple of bars and then built it up from there, adding 1-2 bars a year. It's doesn't sound much but over 20 years it adds up."
Records show that 20 years ago he had absolutely nothing to do with the Eclipse Group- as they do now. He was a young and very successful 'opener' and then 'loader' for Foreign Currency International before starting off his own boiler room empire.
In any event Hayward had been throwing good money after bad. His initial investment in the club seemed to produce progress but any plans he might have had to get it into the Premier League  were soon dashed on the field.
Ziya Eren, though a rather dark house, seems to have a much more solid background as a steel magnate producing 5 per cent of Turkey's steel. Hopefully he will be more open than Turkey's current government which is closing down opposition newspapers and has jailed over 30 journalists.
The last time Bangkok businessmen made a bid to control British football clubs came with the creation of the 'Football Fund' by some truly dodgy financial wise guys.
The Football Fund was exposed on Channel 4
CHANNEL 4 HOW TO BUY A FOOTBALL CLUB